WELCOME TO ROCK STAR GARY REFLECTIONS!
>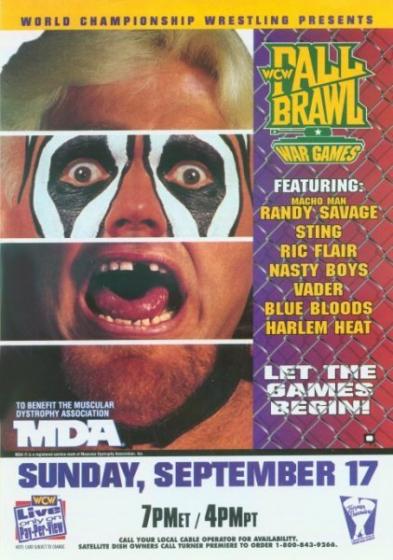 Live from Asheville, NC
Airdate: September 17, 1995
Attendance: 6,600 (5,100 paid)
Hosted by Tony Schiavone and Bobby "The Brain" Heenan
Match 1 for the #1 contender to US title: Johnny B. Badd versus "Flyin'" Brian Pillman
Highlights:
Buffer performed the introductions but did not rumble.
The combatants fought in ring #1.
Both men tried a dropkick simultaneously.
Flying arm drag by Pillman.
La magistral cradle by Badd.
Pillman wrapped the legs and added a bridge in order to get a 2 count.
Headscissors by Pillman.
Victory roll by Pillman.
Badd bled hardway from the eye.
Pillman countered a side headlock with a backbreaker.
Boston crab by Pillman.
Tilt-a-whirl backbreaker by Badd.
Subtle heel tactics shown by Pillman. As the match wore on his tactics were less subtle. This becomes important later.
Springboard leg drop by Badd.
Both men tried to leapfrog one another simultaneously and ran into one another.
Head butt by Pillman.
Pillman attempted to suplex Badd into the ring; however, Badd suplexed Pillman to the floor.
Plancha by Badd.
Badd mounted the top turnbuckle only to get nailed by a dropkick on the way down.
Tiger driver by Badd.
Tombstone piledriver by Pillman only got 2.
Pillman mounted the middle turnbuckle but his tornado DDT attempt was thwarted.
Seated abdominal stretch by Badd.
Two minutes remained in the match.
Side Russian leg sweep by Pillman.
Seated abdominal stretch by Pillman.
One minute remained in the match.
Badd hit the Tutti Frutti, but Pillman was under the bottom rope.
Springboard clothesline by Pillman only got 2.
Backslide by Pillman but the bell rang.
Referee Nick Patrick called for sudden death overtime.
Upon a reversal of an Irish whip Pillman sent Badd into the steel railing.
Pillman mounted the top turnbuckle in order to throw a missile dropkick, but Badd threw a dropkick as well.
Sleeper by Pillman.
Sleeper by Badd countered into a belly-to-back suplex by Pillman.
After being suplexed onto the top turnbuckle Badd reversed a superplex attempt.
Top rope sunset flip by Badd got 2.
Powerbomb attempt by Badd countered into a huracanrana by Pillman.
Badd countered a crucifix into a Samoan drop.
Super huracanrana by Badd.
Tornado DDT by Pillman.
Pillman mounted the top turnbuckle, but Badd shook the top rope.
He then tossed Pillman directly into the steel railing. It must have tasted like the Sea Bass at Limones.
Somersault plancha by Badd.
Springboard splash by Badd hit knees.
Tope suicida by Pillman. Holy shit!
Pillman tried a springboard maneuver, but Badd ducked. Pillman crotched himself on the top rope.
Both men ran full-throttle and hit simultaneous cross body blocks.
Badd landed on top and pinned Pillman. Wow!
Rating: ****1/2
Summary: Just like at the Great American Bash Pillman brought the goods. The good news is that Johnny brought them too. Check this one out as soon as you can.
Backstage "Mean" Gene Okerlund interviews Ric Flair. He refers to Asheville as "Horsemen country." He also states that Arn Anderson will "face greatness."
Match 2: Sergeant Craig "Pit Bull" Pittman versus Cobra
Highlights:
Cobra? Who's this guy? Oh yeah…if you recall back at SuperBrawl IV a team named Thunder and Lightning wrestled on the card. Cobra was the current gimmick for Jeff Farmer.
Cobra's entrance music was Morse code.
After ring announcer David Penzer announced Pittman the curtain opened and the not-yet-named Prince Iaukea came out.
Meanwhile Pittman repelled from the ceiling.
He snuck up from behind and attacked Cobra.
He tossed Cobra outside the ring.
Cobra reversed an Irish whip and sent Pittman into the ring post.
Cobra then mounted the top turnbuckle but only ate canvas courtesy of Pittman.
Pittman then applied the Fujiwara arm bar (Code Red) for the submission.
Rating: DUD
Summary: Popcorn, anyone? Get someone a cold one? This was definitely the bathroom break match everyone needed after the 30-minute opener. Next!
On WCW Worldwide (aired 9/2) "Mr. Wonderful" Paul Orndorff faced Randy Savage and lost. Afterwards Orndorff was tremendously despondent over the direction of his career. Wait a minute! He's mad about HIS career? What about Vader or his former partner Roma? Anyways, Gary Spivey, who claims to be psychic, enters Paul's dressing room with his trademark wig. He boosts Paul's spirits and helps him to recover his self-esteem. Why is this on a wrestling PPV?
Match 3 for the TV title: The Renegade (champion w/ Jimmy Hart) versus Diamond Dallas Page (w/ the Diamond Doll and Maxx Muscle)
Highlights:
Renegade exploded toward the ring. If he exploded like this it would have been more exciting.
Side Russian leg sweep by DDP.
Head butt by DDP had the opposite effect.
In fact DDP fell outside the ring, hit the ring post, and fell into the first row.
Clothesline by Renegade.
Renegade attempted a cross body block, but DDP ducked. Renegade then hit the ropes hard.
Running neck snap on the top rope by DDP.
Swinging neckbreaker by DDP.
The Diamond Doll was unhappy to raise the "10" sign.
Clothesline by DDP.
Shoulder block in the corner by DDP.
A second one missed.
Clothesline by Renegade.
Make that 2.
Running handspring elbow by Renegade. I wonder if the Great Muta taught him that.
Renegade then mounted the top turnbuckle and hit the double axe handle.
Jumping DDT by DDP. Say that five times fast.
DDP tried to deliver the Diamond Cutter, but Renegade shrugged him off.
Maxx Muscle got up on the apron.
Renegade reversed an Irish whip and sent DDP into Maxx.
Powerslam by Renegade.
Not to disrespect the dead, but Renegade made the dumbest mistake after climbing to the top turnbuckle by diving onto Maxx Muscle rather than DDP.
As Renegade tried to re-enter the ring Maxx Muscle grabbed his leg.
That set him up perfectly for the Diamond Cutter.
1-2-3!
WE HAVE A NEW CHAMPION!
Rating: **
Summary: Whew! Finally the Renegade experiment is over. DDP, with his meticulous pre-match planning, has grown leaps and bounds over the type of wrestler he was just a couple of years prior. He deserved to win the title here.
I have to give credit where it's due. Tony could usually handle Bobby's humor and not crack up, but after Bobby mentioned the possible offspring between Colonel Parker and Sister Sherri Tony lost it. Great job, Bobby!
Match 4 for the World tag team titles: Bunkhouse Buck and "Dirty" Dick Slater (champions w/ Colonel Parker) versus Harlem Heat (w/ Sister Sherri)
Highlights:
Clothesline by Booker T to Slater.
Clothesline from Stevie Ray to Buck.
Leg lariat by Booker T to Buck.
Inverted atomic drop by Slater to Stevie Ray.
Swinging neckbreaker by Slater.
(Barely) behind referee Nick Patrick's back Slater tossed Booker T over the top rope.
Knee lift by Buck to Booker T.
Side Russian leg sweep by Slater.
Piledriver by Slater.
Behind Patrick's back Buck tossed Booker T over the top rope to the floor.
Slater then made Booker T eat the steel railing. Waiter, he'll have the corned fried catfish from Chestnut.
Big boot from Buck.
After a cross-corner whip Booker T tried a leg lariat, but Buck evaded him.
Belly-to-back suplex by Slater.
Another swinging neckbreaker by Slater.
Boston crab by Slater.
Bicycle kick by Stevie Ray broke it up.
Axe kick by Booker T.
Hot tag Stevie Ray.
Powerslam by Stevie Ray.
While Buck and Booker T go over the top rope together Colonel Parker and Sherri met in ring #2.
As the lovebirds mingled the Nasty Boys hit the ring.
While Colonel Parker planted one on Sherri the Nasty Boys nailed Slater with his own boot.
Stevie Ray then pinned Slater.
WE HAVE NEW CHAMPIONS!
Rating: *
Summary: Get Bunk and Slater out of here already! Harlem Heat had zero chemistry with them making this a boring match with hardly any cohesion. Meanwhile the love affair between Sherri and Colonel Parker continues.
Gene interviews Bunkhouse Buck and Colonel Parker. Buck confronts Parker about his current distraction. After Buck and Slater leave Colonel Parker informs us that he's on cloud nine.
Tony shills Halloween Havoc on October 29.
Excellent video package on the turmoil between Anderson and Flair.
Backstage Gene interviews Arn Anderson. Fantastic promo.
Match 5: "The Enforcer" Arn Anderson versus "Nature Boy" Ric Flair
Highlights:
For the first and only time tonight the match took place in ring #2.
Wrestlers from the back came out to watch this encounter. Eddy Guerrero, who wrestled Alex Wright on the Main Event prior to the PPV, was shown sitting next to Wright.
Flair got in Arn's face so Arn slapped him.
Arn with some old-fashioned Anderson arm work.
Flair tried to call him on it and got slapped again.
Flair countered a hammerlock with a drop toehold.
Arn mounted the top turnbuckle but was thwarted.
Arn then applied a sleeper.
Arn mounted the middle turnbuckle and delivered a knee to the back.
Anderson slam.
Arn rammed Flair's arm into the ring post.
Single arm DDT by Arn.
Flair flip and he landed on the apron.
He then baited Arn to come after him, ducked, and sent Arn over the top rope to the floor.
Flair mounted the top rope and nailed Arn with a double axe handle.
Neck snap on the top rope by Flair.
Flair tried the pin with a leg on the ropes.
Arn tried to nail him with a left hook, but referee Randy Anderson blocked it.
Flair took advantage and hit Arn downstairs. OUCH!
Arn gave Flair a back body drop on the floor.
Flair blocked then gave Arn a vertical suplex on the floor.
Back in the ring Flair gave Arn a delayed vertical suplex.
Another Flair flip, but this time Flair got hung in the Tree of Woe.
Arn tried the DDT, but Flair hooked the top rope to block it.
A Flair flop followed.
Flair mounted the top turnbuckle only to come down the hard way.
Arn mounted the middle turnbuckle but ate a clothesline.
Flair applied the figure-four leg lock.
Arn reversed it.
Flair then clipped the knee. Personal foul. #1 Defense. 15 yards. First down.
Flair tried to apply the figure-four leg lock again, but Anderson countered with an inside cradle for 2.
Flair clipped the knee again.
Interesting note: This match has lasted several minutes. Arn's body is completely sweaty and he looks worn out while it appears like Flair hasn't broken a sweat yet. Now THAT'S conditioning.
Flair tried a cross-corner whip but Arn's leg gave out.
Immediately Brian Pillman got up on the apron.
After Flair shrugged him off Pillman nailed him!
Flair then walloped Pillman.
Pillman kicked Flair in the head.
DDT by Arn.
1-2-3.
Rating: ****1/2
Summary: While that rating may be a bit high, this match was great, and there is a lot more of this story to come.
Pre-recorded promo by Kevin Sullivan the Taskmaster. Wow! That was insulting, juvenile, and stupid altogether.
We then see a video where the Giant using a monster truck crushed Hogan's brand new motorcycle. Somewhere Fonzie is crying.
Video package on the feud between the Dungeon of Doom and Hulk Hogan.
Backstage Gene interviews Hogan, Sting, Savage, and Luger. They are dressed in camouflage including war paint. These guys must be on something because they are way too excited and chummy with one another.
Match 6 (WarGames): The Hulkamaniacs (WCW World Champion Hulk Hogan, "Macho Man" Randy Savage, US Champion Sting, and Lex Luger) versus the Dungeon of Doom (Meng, Zodiac, Shark, and Kamala (w/ the Taskmaster))
Highlights:
Special stipulation: if the Hulkamaniacs win then Hogan gets five minutes with the Taskmaster.
Buffer rumbled.
The five-minute period began with Sting and…Shark? As Bobby put it, "I'd keep my biggest man 'til the end." Truer words have never been spoken.
Shark missed an Avalanche. He didn't learn anything from his previous gimmick.
Sting set up for the Stinger Splash so Shark moved to the other ring.
Sting then leaped from one ring to the other to take him down. Impressive!
Sting slammed Shark.
A second one failed.
Bear hug by Shark.
He even "bit" him in the ribs like a shark. Now THAT'S living the gimmick.
So Shark noticed that Sting could leap between rings, so he gave it a whirl. He ended up like a beached whale hung out to dry on both sets of ropes. D'oh!
Sting dove at Shark but got caught.
A clip of the knee by Sting. Personal foul #1 Defense. 15 yards. First down.
As the five-minute period ended Sting applied the Scorpion Death lock.
The heels won so Zodiac entered the cage.
Sting used the top of the cage to mule kick Zodiac.
He then hooked Zodiac in the Scorpion Death lock until Shark stopped him.
Elbow drop and leg drop by Shark.
Shark tossed Sting into the cage.
Savage entered the cage.
Savage tried to put Zodiac in a Boston crab, but Shark stopped him.
Powerslam by Shark on Sting.
Clothesline by Sting on Zodiac.
Kamala entered the cage.
Atomic drop by Shark to Savage.
Head butt by Kamala to Sting.
Luger entered the cage.
Double clothesline by Luger to Shark and Kamala.
Luger and Savage sent Zodiac into the cage.
Double axehandle off the top rope by Savage.
After Luger slammed Zodiac he came off the ropes, received a drop toehold from Zodiac, and ran into Savage. Uh oh. I don't like the sound of that.
Savage and Luger got into it.
Meng entered the cage.
Crescent kick by Meng to Luger.
Hogan entered the cage.
He threw powder in the faces of Meng, Kamala, and Zodiac.
He then pinballed Zodiac between the ropes.
Savage and Sting rammed Meng into the cage.
Hogan then rammed Zodiac into the cage.
Luger and Hogan rammed Kamala into the cage.
They then rammed Zodiac into the cage.
Hogan then rammed Meng into the cage.
Next was Shark's turn.
Zodiac ate the cage again thanks to Hogan.
Hogan then applied the camel clutch.
Zodiac submitted. The Hulkamaniacs won.
Rating: ***
Summary: By default this match gets three stars. Last year's debacle was marred by a telegraphed finish. This year's debacle was marred by a weak set of Hogan antagonists. The Savage-Luger story could garner some future interest however.
After the match the Taskmaster attempted to flee, but head of security Doug Dillenger stopped him. Sting throws him in the cage so that Hogan can get revenge for his motorcycle. Hogan rams Taskmaster seven times into the cage before Taskmaster escapes the cage. Hogan rams him twice into the cage before bringing him back inside. After a clothesline Hogan chokes him with his wrist tape. He then delivers the big boot. Suddenly the Giant makes his way to the ring. Giant with amazing agility leaps over both sets of ropes to get his hands on Hogan. He then twists Hogan's neck worse than his last chiropractic visit. The Hulkamaniacs return to save Hogan.
Conclusion: Two title changes and two stellar matches make this show a must-see. Pillman and Badd put on an excellent 30-minute engagement while Flair and Anderson told a great story of two friends on opposite sides of an argument. In addition the drama post-WarGames tells a good story leading to next month.
Let's see what happens on Nitro. See you there!
Buyrate: 0.48 (Ouch!)
Comments? Suggestions? Send them to me at rsg@rockstargary.com and follow me on Twitter (@rockstargary202).
Custom Search