WELCOME TO ROCK STAR GARY REFLECTIONS!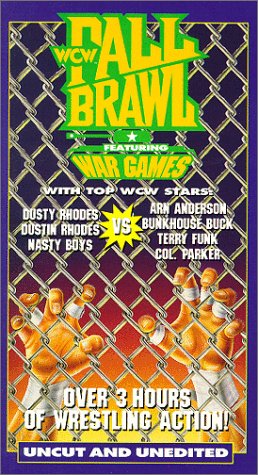 Live from Roanoke, VA
Airdate: September 18, 1994
Attendance: 6,500 (5,200 paid)
Hosted by Tony Schiavone and Bobby "The Brain" Heenan
Martin DelRay sings the National Anthem.
Tony, Bobby, and "Mean" Gene Okerlund welcome us to the show. Gene states that he will have a satellite interview with both Hulk Hogan and "Nature Boy" Ric Flair later in the show. They also mention an injury with respect to the US title match. More on this later.
Match 1 for the WCW World TV title: Lord Steven Regal (champion w/ Sir William) versus Johnny B. Badd
Highlights:
The Badd Man once again was the designated PPV curtain-jerker.
He will face his lordship in ring #2.
Regal wore a powdered wig to the ring.
Monkey flip by Regal.
Airplane spin by Badd.
Plancha by Badd.
Crossbody attempt by Badd hit nothing but ropes.
Sir William choked Badd with his cane.
The Blacktop Bully was shown arguing with Doug Dellinger.
Knee lift from Badd.
European uppercut from Regal sent Badd into 1996.
Headscissors by Badd.
Sunset flip by Badd from the apron. Sir William offered Regal the cane, but referee Nick Patrick kicked it away.
Heel miscommunication sent Sir William to the floor in a hurry.
Distraction finish only got 2. Whew!
Running elbow drop by Badd missed.
Regal attempted a European uppercut, but Badd countered with a backslide for the pin.
WE HAVE A NEW CHAMPION!
Rating: ***1/2
Summary: The improvement in Badd's wrestling skills is paid off here with a title victory. Way to go, Johnny!
According to Tony, Flair was suspended by WCW Commissioner Nick Bockwinkel back on 8/27 on WCW Saturday Night. They replay the events from Clash XXVIII. Okerlund implicates Heenan in the attack.
Match 2 (Loser leaves town): Kevin Sullivan (with Evad Sullivan) versus Cactus Jack
Highlights:
In the fairy tale land of kayfabe this match was set up with this angle back on 8/27.
Cactus received a good pop upon his entrance. Isn't he supposed to be the heel here?
Before this match began in ring #1 the fight began at ringside then into the crowd.
Immediately Sullivan made Jack eat the steel railing. It probably tasted like a Singapore sling.
Before throwing him back in the ring Sullivan made him taste it again. Barkeep, that's two on his tab.
Back on the floor Jack ran Sullivan nose-first into the ring post.
After Jack mounted the second turnbuckle Evad distracted him which led to Kevin making Jack take the Nestea plunge. OUCH with a side of YEE-OUCH! Sick bump.
Sullivan slammed him on the exposed concrete.
Back in the ring Sullivan attacked the bad ear while Heenan made hearing loss jokes.
Jack tried to give Sullivan a piledriver but took a back drop on the exposed concrete.
Jack attempted to use a chair but Evad stole it from him.
Sullivan brought the chair into the ring, but Evad stole it from him.
Jack mistakenly ran into Evad enabling Sullivan to roll him up for the pin. Buh-bye Cactus.
Rating: **
Summary: As a WCW fan this match made me sad. Mick Foley was given his walking papers over a misunderstood ECW promo. While I don't condone besmirching one of your employer's highest accomplishments (World tag team titles) on TV the message of the promo had nothing to do with WCW. While the grass became greener for Mick after a stint in ECW and his extensive tenure in WWE he was a future prospect that WCW's mismanagement let slip through the cracks.
Back in the dressing room Colonel Parker and his Stud stable cut a promo. Parker will be the fourth man in the ring instead of Meng. I don't like his chances. Arn demonstrates the essence of making a main event match feel important.
Match 3 for the WCW US title: Ricky "The Dragon" Steamboat (champion) versus "Stunning" Steve Austin
Highlights:
WCW Commissioner Nick Bockwinkel joined ring announcer Gary Michael Cappetta in ring #2.
Proper protocol was followed as the challenger was introduced then the champion.
Steamboat made his entrance in street clothes.
Bockwinkel notified us that Steamboat cannot compete due to injury. He then states that the US title must be forfeited to Austin. While Austin pantomimed crying due to the news he celebrated like a spoiled brat when he received the belt.
After Austin called Steamboat "mealy-mouthed" he attempted to leave with his new title. Unfortunately for him Bockwinkel decreed that he must defend the title tonight.
Who's his opponent?
Uh oh…
REAL Match 3 for the WCW US title: "Stunning" Steve Austin (champion) versus "Hacksaw" Jim Duggan
Highlights:
Austin pled with Bockwinkel not to have his match as Duggan woke up the crowd with a "USA" chant.
Bockwinkel kept Austin from leaving which sent him into a back body drop.
Duggan jumped atop Austin and got the pin.
WE HAVE A NEW CHAMPION!
Rating: DUD
Summary: The less said about this the better. Another potential future World title prospect loses a match to what amounts to be a Hogan colleague. Poor Austin. Huge pop for Duggan though.
After the match Gene interviews Duggan. He mentions Flair walking around with a bogus championship belt.
Match 4 for the WCW World tag team titles: Pretty Wonderful (champions) versus Stars and Stripes
Highlights:
In case you aren't aware Stars and Stripes were Marcus Bagwell and the Patriot.
The Blacktop Bully was ejected by Dellinger after confronting Stars and Stripes.
Quick tidbit: Too Cold Scorpio was fired back in April (allegedly) due to a "cocaine party" in St. Thomas; therefore, Bagwell had to be paired with a new partner.
We're back in ring #1 for this match.
Orndorff attempted to hit something off the top rope, but the Patriot nailed him in the gut.
Shaky-shaky elbow drop from Orndorff.
Fantastic dropkick from Roma.
Top rope elbow drop from Roma.
Behind referee Randy Anderson's back Orndorff tossed Bagwell over the top rope.
He then made Bagwell eat the top of a cooler. Sorry, I don't do cooler one-liners.
Orndorff dumped the contents of the cooler onto Bagwell.
Orndorff then attempted to piledrive him but received a back drop instead.
False tag and Orndorff used a well-placed knee to send Bagwell to the floor.
Regardless Patriot went to work on Pretty Wonderful including a great pair of dropkicks.
He then gave Roma a full nelson slam to no avail since he wasn't the legal man.
Meanwhile Orndorff gave Bagwell a piledriver on the floor.
He rolled Bagwell back in, and Roma pinned Bagwell.
Rating: ***
Summary: Really good tag match here. Pretty Wonderful's retaining the belts shows some strength in their ability as a team. Hopefully these two teams can hook up again soon.
Backstage in the locker room Gene interviews Team Rhodes. Dusty's wearing a shirt that says "Nasty Dream." He cuts a great promo as usual. He threatens to make Colonel Parker "squeal like a pig."
Halloween Havoc will be on October 23. Muhammad Ali will be there!
Promo for the triangle match.
Match 5 (Triangle Elimination): Sting versus the Guardian Angel versus Vader (w/ Harley Race)
Highlights (match 1):
A coin toss determined the starting participants. Sting received a bye.
Will Vader's stock rise from this match? Let's find out!
Heenan accidentally said "Bossman" then stammered.
Vader avalanche.
Angel tried something off the top rope, but Vader shook the ropes upsetting Angel's balance.
Vader tried another avalanche, but Angel moved and rolled him up for 2.
High cross body from Angel.
Cactus clothesline from Angel. Stealing his moves already? Sheesh. Let the man at least go home before doing that.
Miscommunication between Vader and Race knocked Race down.
Vader missed an avalanche and hit the ring post.
Enziguri by Angel.
Guillotine by Angel followed by the sliding right hand.
Bossman slam but referee Nick Patrick was knocked down.
Race gave Angel a head butt.
Vader bomb ended Angel's evening.
Vader will now face Sting. Winner receives the #1 contender ranking to the World title.
Highlights (match 2):
Sting no-sold a pair of clubbing forearms.
Dropkick by Sting.
Vader Attack knocked Sting silly.
Vader bomb.
Sting blocked a second attempt with kicks to the leg.
Third attempt but Sting evaded him.
Sting clotheslined Vader over the top rope to the floor.
Behind Patrick's back Race tried to suplex Sting but got reversed.
Vertical suplex by Sting.
From the top rope Sting splashed Vader, but it was partially blocked.
He then tried to splash Vader off the ropes, but Vader raised his knees. Blown spot perhaps?
Moonsault time! But no Sting to land on.
Superplex by Sting.
Samoan drop by Sting.
Stinger splash.
German suplex by Sting.
Vader rammed Sting face-first into the apron.
Again Sting no-sold the clubbing forearms.
Vader took a powder to ring #1.
Sting leaped onto Vader then delivered a top rope clothesline.
Top rope splash by Sting only got 2.
Belly to back suplex by Vader.
Vader came off the second turnbuckle, but Sting caught and powerslammed him.
One minute left in the time limit.
Scorpion deathlock but Vader reversed it.
OVERTIME! Five minute period.
Vertical suplex by Vader.
Superplex by Vader blocked, but Sting's too exhausted to follow up.
Vader mounted the top turnbuckle but got caught.
Inverted fireman's carry sent Vader to the mat.
Vader attack.
One minute left.
Vader splash only got 2.
Powerbomb by Vader but they ran out of time.
SUDDEN DEATH! First man off his feet loses.
The bout continued in ring #2.
Vader walloped Sting trying to take him down.
Angel came back out and removed Race from the ring.
Patrick was outside the ring when Sting knocked Vader down.
A masked man hit Sting with a tire iron knocking him to the canvas.
Patrick called for the bell. Vader won!
Rating: ****
Summary: Wow! What a match! The initial contest had the great big man versus big man dynamic while the secondary had the big man versus smaller man dynamic. Both worked to a great level. Check this out if you get a chance!
Gene speaks to Hulk Hogan via satellite. The crowd reaction is mixed at best. There may have been some audio sweetening. Hogan teases a surprise for Flair. On a split screen we see Flair with a bogus title belt and four young ladies. WCW is playing the actual World champion versus the "real" World champion angle that the WWF should have played up better in 1991.
Over the phone Hogan states that he'll put his career on the line for their match at Halloween Havoc. Flair accepts. Unbeknownst to Flair Hogan's knee is fine as he unwraps it. He even has "Flair" written on his knee pad.
Back on 8/27 WCW Commissioner Nick Bockwinkel suspended both Flair and Sensuous Sherri for their actions at the Clash. Therefore, he must reinstate Flair in order for him to compete at Halloween Havoc. The story continues.
Gene interviews Bockwinkel. He decries that Hogan will defend the WCW World title against Flair at Halloween Havoc…inside a STEEL CAGE! I guess Flair's agreement to the match lifted his suspension.
Match 6 (War Games): Team Rhodes versus the Stud Stable
Highlights:
Team Rhodes consisted of Dusty and Dustin Rhodes alongside the Nasty Boys.
The Stud Stable consisted of Arn Anderson, Terry Funk, Bunkhouse Bunk, and…wait for it.
Michael Buffer rumbled but did not introduce the participants. Sorry had to fit this in.
…back on 9/10/94 (taped 8/11) Gene informed Colonel Parker that he would replace Meng in this match. More on this later.
Replays of the Arn double-cross and the partnership of son and father were shown.
The pairing of the Rhodes and the Nasty Boys was then shown. I wouldn't want to pick up that bar tab!
Arn and Dustin started the match in ring#2.
Dustin rammed the back of Arn's head into the cage three times.
He then wedged Arn's head between the rings.
Wow! Dustin launched into Arn with a flying lariat from ring #1 to #2.
DDT by Arn.
Arn then used his wrist tape to choke Dustin.
Dropkick by Dustin.
After Arn missed an enziguri Dustin applied a half crab.
Heels win the toss, and Buck entered the cage.
Heenan's discombobulation may have confused Tony, but this is his first War games, so it made sense.
Double Boston crab on Dustin.
Sags entered the cage to even the odds.
He then slammed Buck back-first into the cage then made Arn eat the cage. Piledriver by Sags on Buck.
Sleeper by Dustin.
Funk entered the cage with his left boot in hand.
He then made Dustin eat the cage several times.
Sags practically killed Funk between the rings. Funk briefly disappeared between them.
Knobbs entered the cage.
All three heels got thrown into the cage.
Knobbs then raked Arn's face against the steel, but no blood was shed.
A very hesistant Parker entered the cage.
Spinebuster by Arn on Knobbs.
Parker whipped Sags with his belt.
The crowd chanted "DUSTY!"
Dusty entered the ring.
Bionic elbows for everyone!
Parker ran for his life upon seeing Dusty.
Meng tried to tear down the cage.
Dusty applied the figure-four leg lock on Parker.
Meanwhile Knobbs splashed Parker followed by elbow drops from both Nasty Boys.
The bell rang as Team Rhodes won.
Rating: **
Summary: The formula of this match saved this match from being awful. The lack of blood in a match like this is glaring. Parker's selling of the leg injury after the match was a nice touch however.
After the match Meng entered the ring and intimidated the cameraman by giving the camera a head butt. Someone feed this man ASAP! He's hungry!
Tony, Bobby and Gene close out the show.
Conclusion: Let's start with the positives then move on to the negatives.
The positives:
The Sting-Vader portion of the triangle match was awesome. Even if you think each match between them must be the same that isn't the case.
Badd's winning the TV title is a great accomplishment in Mero's career at this point. Hopefully he won't be jerking the curtain any longer. The hype (while elongated) for Halloween Havoc makes you want to watch that show. WCW pulled out all the stops to get their audience to buy the PPV.
The negatives:
Steve Austin's credibility within WCW taking a nosedive thanks to the "upset" by Duggan.
The loser leaves town match sent Foley packing to ECW, and WCW took parting shots at him during the show.
While the concept and execution of the main event kept my attention having Parker in the match gave away the ending a mile away.
If you've never seen this show check it out, but if you are trying to revisit it just watch the matches I highlighted.
See you at Halloween Havoc!
Buyrate: 0.53
Comments? Suggestions? Send them to me at rsg@rockstargary.com and follow me on Twitter (@rockstargary202).
Custom Search