WELCOME TO ROCK STAR GARY REFLECTIONS!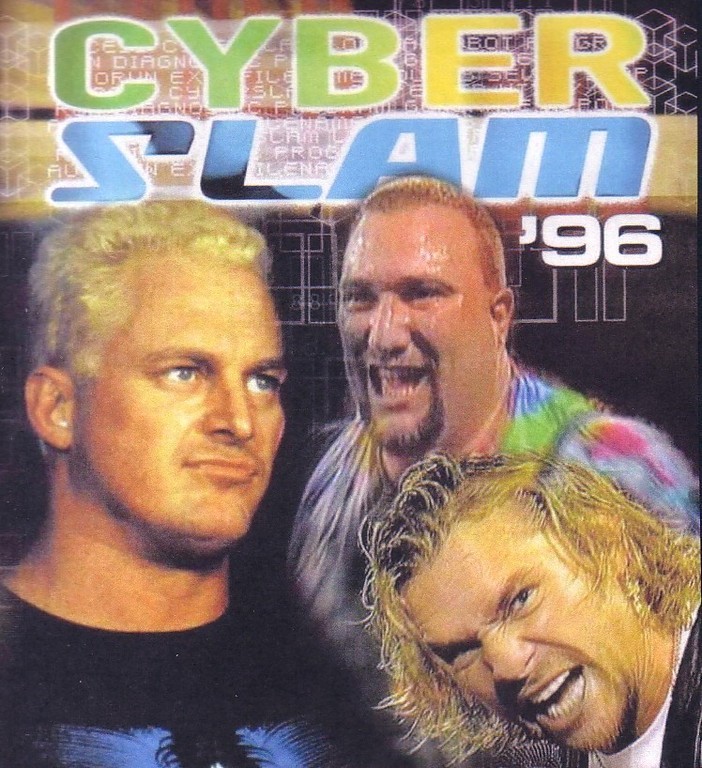 As promised I have a special treat for all of you, but be forewarned. This review is rated TV-MA!
Live from Philadelphia, PA
Airdate: February 17, 1996
Attendance: 1,300
Hosted by Joey Styles
Match 1 (six-man): Judge Dread and the Bad Crew versus Dino Sendoff, Donnie Allen, and the Dirt Bike Kid
Highlights:
Who? Apparently the Dirt Bike Kid was notable for this.
A member of the Bad Crew gave Allen a belly-to-belly suplex.
Spinning heel kick from Dread to the Kid.
Gutbuster by Dread to the Kid.
Sit-out double underhook powerbomb (mistakenly called a tiger driver by Styles) by a member of the Bad Crew to Allen.
Doomsday Device by the Bad Crew to Allen.
1-2-3.
Rating: *1/2
Summary: Like me the Philly crowd sat on their hands waiting for this to end. Please pass the popcorn.
Immediately after the pin Sandman hits the ring and annihilates everyone with the Singapore cane. The practically-comatose crowd wakes up and voices their approval raucously.
Match 2: El Puerto Ricano versus Spiros Greco
Highlights:
Dropkick by El Puerto Ricano.
Knee lift by Greco.
Back elbow.
Flying clothesline.
Side pumphandle slam.
1-2-3.
Rating: DUD
Summary: Greco's most notable achievement in pro wrestling wasn't this match. Instead it was being the trainer for none other than Prince Iaukea.
Match 3: The "Human Suplex Machine" Taz (w/ Bill Alphonso) versus Joel Hartgood
Highlights:
The crowd warned Hartgood that "Taz's gonna kill you." Well, almost.
According to Joey Taz ran 911 out of ECW. That's one way to put it.
Vicious clothesline by Taz.
Overhead belly-to-belly Taz-plex.
Sunset flip by Hartgood.
"Hardway" Taz-plex according to Joey.
Taz applied the Tazmission (kata ha jime) for the submission.
Rating: *
Summary: Showcase match for Taz. Move along.
After the match Damage Control arrives to offer medical assistance to Hartgood. After they place Hartgood on the stretcher Taz dumps him off. Dino Sendoff, Donnie Allen, and the Dirt Bike Kid come to Hartgood's aid, but Taz gives the Kid a German Taz-plex. Add another for Sendoff. And add a third for Donnie Allen. Mikey Whipwreck runs in and clobbers Alphonso. Taz takes exception to this and hits Mikey. Whipwreck reverses an Irish whip and hits a dropkick followed by a huracanrana. Immediately thereafter he mounts the top turnbuckle to deliver a double axe handle. However, Taz catches him and hits a belly-to-belly Taz-plex. To add insult to injury Taz applied the Tazmission to Mikey. Note to self: stay on Taz's good side (if he has one).
Joey is in the ring and welcomes the TV audience to Cyberslam '96. Just as Joey is about to describe the goings-on the lights go out. Joey takes a potshot at WCW while the lights are out. When they return the "Loose Cannon" Brian Pillman is in the ring! HOLY SHIT! The crowd erupts. I guess Eric Bischoff wasn't lying when he said that Pillman was "history." The crowd chants "Pillman." The "Loose Cannon" claims that Bischoff, or as he put it "an announcer", took away his constitutional rights. If you couldn't already see it coming Pillman refers to Bischoff as "Jerkoff" much to the crowd's delight. He then calls Bischoff a "piece of fucking shit." I warned you this review was rated TV-MA.
Before Joey can go to break Pillman halts the proceedings and refers to himself as "Brian Fucking Pillman." He then called everyone in the crowd a "motherfuckin' smart mark." Ooh, that's cutting edge for '96. After taking the microphone from Joey he chastises the crowd. Next he states that he's going to urinate in "this hellhole." Quickly ECW Commissioner Tod Gordon, executive producer Paul Heyman, and Shane Douglas enter the ring to quell the efforts of the "Loose Cannon."
As Tod and Paul tell Brian that's not part of the deal Pillman refers to Heyman as "bookerman." I love it! Douglas is overheard saying "he's shooting." As some of Philadelphia's finest attempt to cuff Pillman Heyman trades obscenities with the "Loose Cannon." As he made his way around the ring Pillman spits in a red-headed man's face. Next Pillman brings him in over the steel railing and then into the ring. After Pillman attempts to stab the man with a fork Douglas runs in to stop the violence. Pillman runs away as the crowd chants "E-C-W!"
Douglas gets on the mic and refers to Pillman as "that blond piece of shit from WCW" and implores security to throw him out. Damage Control takes the red-headed man away on a stretcher. Douglas stages an in-ring protest to throw Pillman out. Security then escorts Pillman from the back out the front door as the ECW faithful sing the goodbye song in his honor. Fantastic if not extremely profane segment.
Match 4: Buh Buh Ray Dudley (w/ Sign Guy Dudley, Chubby Dudley, Dances with Dudley, and Big Dick Dudley) versus Mr. Hughes
Highlights:
Much to my own dismay this guy (Hughes) gets to stink up my monitor. The last time I saw one of his matches was against Mr. Perfect at King of the Ring '93. I felt bad for Hennig having to wrestle him.
Thanks to the WWE Network a knockoff of AC/DC's "Highway to Hell" brought Buh Buh Ray Dudley to the ring.
After Hughes destroyed Sign Guy and Chubby Dudley he nailed Buh Buh.
Big Dick got in the ring, stood eye-to-eye with Hughes, and took a punch.
As retribution he cracked his crutch across Hughes' back.
Buh Buh mounted the top turnbuckle, hit the splash, and got the pin.
Rating: DUD
Summary: A quick Mr. Hughes match is eons better than a long one. Whew.
Match 5: The Head Hunters (w/ Damien Kane and Lady Alexandra) versus the Gangstas
Highlights:
Joey notified us that New Jack was in jail in Atlanta, GA trying to get hired by WCW.
Mustafa, in a floppy hat and neckerchief, came to the ring and got on the mic. Allegedly inebriated in some fashion he giggled his way through a promo. Who gave this guy promo time?
Joey's interpretation of Mustafa's mumblings was that Mustafa would face the Bruise Brothers by himself. Wait a minute! Nobody ever considered Mustafa for membership in Mensa?
Damien Kane and Lady Alexandra made their way to the ring.
Damien told Mustafa he needed a job. Mustafa took one look at Lady Alexandra and requested a hand job. Quite the gentleman, no?
Stupidly Damien made a jail bird joke and got nailed for it.
After delivering a back elbow Mustafa tossed Damien over the top rope to the concrete floor.
He then whipped Damien into the steel railing.
The Head Hunters arrived and double-teamed Mustafa outside the ring.
As you may recall the Headhunters appeared at WWF Royal Rumble '96.
Back in the ring one of the Head Hunters placed Mustafa atop the top turnbuckle and gave him a superplex.
That was immediately followed by a top rope splash by the other Head Hunter.
After badmouthing Mustafa Damien challenged any team from the back to take on his Head Hunters. That's NEVER a good idea. Just ask the Honkytonk Man.
REAL Match 5: The Gangstas Bruise Brothers versus the Headhunters
Highlights:
To answer the challenge the Bruise Brothers hit the ring.
The Bruise Brothers (Harris twins) were previously known as the Blu Brothers in the WWF.
So we have a battle of two twin tag teams. Say that five times fast.
Cookie sheets and chairs get involved in this brawl.
After they brawl at ringside, the aisle, and in the stands a wrestler from each team returned to the ring.
Head Hunter#1 hit a moonsault while the other Bruise Brother hit the big boot on Head Hunter #2.
Referee Jim Molineaux counted the pin, and the Bruise Brothers were deemed the winners.
Rating: ½*
Summary: Chaotic brawl just for your pleasure. It certainly wasn't mine.
Again Joey is in the ring and introduces Tommy Dreamer to a warm reception. Beulah joins him. According to Meltzer Dreamer has a separated shoulder; thus, he is only wearing his ECW jacket with one arm inside it. As Tommy apologizes for being unable to compete, Raven, Stevie Richards, the Blue Meanie, and Kimona Wanalaya interrupt him. While Raven meanders through his promo Shane Douglas and the Bruise Brothers enter the ring. Yes, there are TEN people in the ring at the moment. Upon Raven telling Dreamer to "prepare to die" the Bruise Brothers turn on Dreamer. WE HAVE A HEEL TURN! As punishment for Dreamer impregnating Raven's ex-girlfriend the Bruise Brothers ram Dreamer's testicles against the ring post repeatedly. YEE-OUCH!
Match 6: Axl Rotten versus the "Italian Stallion" J.T. Smith
Highlights:
In order to generate heel heat Smith portrayed a person of Italian descent. For those unaware it was obvious Smith was neither Italian nor related to the "British Bulldog" Davey Boy Smith.
Before Rotten got in the ring Smith nailed him from behind.
Rotten reversed an Irish whip and sent Smith into and over the steel railing.
Smith then ate a chair shot to the head.
As the ECW faithful told Smith what he should do in his free time Rotten wrapped a noose around Smith's neck in an effort to subdue him.
Blind chair shot by Smith earned him the advantage.
He then gave Rotten a DDT on the concrete floor. In case you aren't aware ECW didn't use floor mats in the ECW arena.
Before getting back into the ring Smith knocked Hat Guy's hat off. How insulting!
Leon Spinks was shown in the audience.
Clothesline by Rotten.
Avalanche.
Avalanche #2 missed.
Springboard splash by Smith got 2.
Upon procuring a steel chair Smith mounted the top turnbuckle but fell off back into the ring. What a klutz!
After Rotten turned his back on him Smith revealed it was a ruse and hammered Rotten with a chair shot to the back.
1-2-3.
Rating: ½*
Summary: The ½* is scored simply for the clever finish. The rest was drivel at best.
After the match Smith spits on Rotten repeatedly then hits a moonsault combined with a chair shot. See, he actually COULD pull the move off if he wanted. Hack Myers along with a few referees run into the ring to stop the chaos. Smith subsequently sucker-punches Myers. After the Shah takes the advantage in the ring Smith nails Rotten again outside the ring. Myers beats Smith up all the way back to the dressing room.
Match 7 (dog collar): The Pitbulls and Francine versus ECW World tag team champions the Eliminators and "Super" Stevie Richards
Highlights:
Francine wore a t-shirt to the ring until her introduction when she removed it. Yowza!
While the Pitbulls and the Eliminators were feuding with one another Francine was introduced to ECW as Stevie's girlfriend. They have split up so she wanted revenge.
Don't blink or you'll miss a Stevie-kick knocking Francine OUT COLD.
A Saturn clothesline took both he and Pitbull #2 over the top rope to the floor.
Another clothesline on the floor by Saturn.
After Kronus gave Pitbull #1 a superplex Saturn delivered a top rope splash.
Backbreaker by Saturn to Pitbull #2.
Stevie ensured that Pitbull #2 didn't have or want a hot date tonight if you catch my drift.
Stevie-kick to the back of Pitbull #1's head. OUCH!
In case you were wondering Francine is still OUT COLD.
Stevie-kick to the kidneys of Pitbull #2.
Stevie-kick to the jaw of Pitbull #1.
The entire front row opposite the hard camera held up their chairs for Pitbull #2 to ram Saturn.
Meanwhile Pitbull #1 delivered a chair shot to the head of Kronus.
All five men brawled through the crowd to the stage beneath the hard camera.
Pitbull #1 and Kronus climbed to the camera platform.
After Stevie rammed Pitbull #2 into the platform Kronus assisted Saturn with a moonsault onto Pitbull #2 down below. Wow!
The crowd rewarded them with an E-C-W chant.
On the camera platform Pitbull #1 gave Kronus a vertical suplex through a table.
Back in the ring Pitbull #1 gave Kronus a super huracanrana. Stevie made the save with a frying pan.
Standing leg drop by Kronus.
Stereo powerbombs by the Eliminators.
Meanwhile Francine is still OUT COLD.
As the Eliminators attempted to destroy Francine again with Total Elimination Pitbull #1 rescued her via a tackle.
Double clothesline by Pitbull #2.
Pitbull #2 then mounted the second turnbuckle and superbombed Saturn.
Next it was Kronus' turn.
The Pitbulls switched roles and killed Stevie with a powerbomb/neckbreaker combo. That was dangerous!
Fast-forward and Francine covered Stevie for the 1-2-3.
Rating: ***
Summary: Saturn was definitely the straw that stirred the drink in this match, but it was very entertaining with a great payoff.
After the match Pitbull #2 saves Francine from Total Elimination but eats it himself. Another attempt at Francine is thwarted by Pitbull #1 who is forced to eat Total Elimination. With her protectors subdued Francine falls to the mercy of the Eliminators and receives a clothesline from Saturn. A limp Francine is stood up only to be taken down by Total Elimination. Goodbye.
Match 8 for the ECW TV title: Too Cold Scorpio (champion) versus Sabu
Highlights:
Scorpio missed a spinning heel kick, but Sabu didn't.
Chair shot to the back by Sabu.
Air Sabu (heel kick in the corner).
Clothesline sent Scorpio to the apron.
Dropkick from Sabu sent him crashing to the floor.
After vaulting Scorpio over the steel railing into the front row Sabu set up a chair and hit a springboard somersault plancha.
Scorpio's tights looked like he paid a visit to Brutus "The Barber" Beefcake's parlor.
Slingshot knee drop by Sabu.
Scorpio escaped a powerbomb attempt and delivered one of his own.
He then mounted the top turnbuckle and hit a leg drop.
Knee lift.
After setting up a chair he face-planted Sabu into it.
He tried a second one but ate it himself.
Springboard clothesline by Sabu sent both wrestlers over the top rope to the floor.
Somersault press from the apron to the floor by Sabu.
Springboard leg lariat by Sabu.
Crescent kick by Scorpio.
Avalanche.
Victory roll by Sabu got 2.
Arabian clutch.
Upon escape Scorpio punted Sabu very low. YEE-OUCH!
On the floor Scorpio punted him again which prompted Joey to mention that this portion of the match wasn't suitable for their TV show.
With Sabu on the apron Scorpio brought him into the ring with a vertical suplex.
Modified surfboard by Scorpio.
Slingshot somersault leg drop by Sabu.
Scorpio mounted the top turnbuckle but hit knees on a moonsault attempt.
Arabian facebuster.
Springboard splash with a chair.
Pancake by Scorpio.
Modified Vader bomb.
He then mounted the top turnbuckle but missed the splash.
Top rope sunset flip got 2.
He mounted the top turnbuckle again but got crotched.
Sabu met him up there and gave him a super victory roll.
Scorpio missed a dropkick then received a back drop over the top rope to the floor.
Tope suicida by Sabu.
Fujiwara arm bar by Sabu.
Outside the ring Sabu made Scorpio taste the steel railing. IT'S ABOUT TIME! It must have tasted like the pepper cheese steak at Dalessandro's.
Asai moonsault by Sabu.
He then set the timekeeper's table up in the stands.
After placing Scorpio atop the table Sabu hit a triple jump moonsault onto Scorpio through the table. E-C-W! E-C-W! E-C-W!
Referee Jim Molineaux checked on Sabu as Joey claimed that Sabu was dead. C'mon, Joey. There's exaggeration and then there's foolish commentary.
Gutwrench suplex attempt by Scorpio countered into a huracanrana by Sabu.
Springboard moonsault by Sabu got 2.
He then mounted the top turnbuckle but missed the moonsault by a mile.
Powerbomb by Scorpio.
He then mounted the top turnbuckle and hit the tumbleweed.
After a leg sweep takedown he hit a top rope leg drop but only got 2.
He mounted the second turnbuckle but ate a chair shot to the face.
Sabu mounted the top turnbuckle and hit a super huracanrana. Wow!
It only got 2 but could have been the finish.
Double clothesline put both men down again.
Two minutes left.
Awesome 450 splash by Scorpio.
One minute left.
In lieu of making a cover Scorpio mounted the top turnbuckle yet again but missed the diving chair shot.
Slingshot leg drop by Sabu.
30 seconds left.
Slingshot somersault leg drop only got 2.
The bell rung and both men received a standing ovation.
Scorpio retained.
Rating: ****
Summary: Excellent back-and-forth match between these guys. More attention to the time limit and gaining a fall would have raised the rating even higher.
Match 9: Cactus Jack versus Shane Douglas
Highlights:
While Douglas had just returned to ECW after his brief WWF stint Cactus was finishing his ECW schedule to jump to the WWF.
Brian Hildebrand was the special referee for this match per Douglas' and Foley's request as he trained with both of them in Pittsburgh.
Douglas nailed a suit-clad Cactus Jack from behind.
Upon ripping off Cactus' dress shirt it was revealed that Cactus was wearing an Eric Bischoff t-shirt underneath. In fact the back reads "Forgive me, Uncle Eric." That'll piss off the ECW faithful.
Outside the ring Cactus hammered Douglas with a metal crutch.
He then made Douglas taste the steel railing. It must have tasted like the Angry Lobster VI at Buddakan.
The same metal crutch used earlier became Cactus' hobby horse courtesy of Douglas. OUCH!
Douglas mounted the top turnbuckle and hit a double axe handle.
Dragon screw leg whip by Douglas.
The crowd chanted "Dean is dead."
Outside the ring Douglas gave Cactus a vertical suplex across the steel railing.
He then mounted the top turnbuckle and hit a tope into the crowd. Um, where was this style of offense when he was in the WWF?
Douglas wrapped Cactus' leg in a steel chair then hit a Vader bomb on it.
The crowd attempted to piss off Douglas by chanting "Ahmed Johnson."
While Cactus leveled Douglas in the back with a chair the crowd added "Razor."
Catapult guillotine using the bottom rope by Cactus.
He then rammed Douglas' leg into the steel railing.
Cactus elbow through a table on the floor.
Drop toe hold onto a chair by Cactus.
Piledriver.
Hildebrand handed something to Douglas.
Whatever it was Douglas cleaned Cactus' clock with it.
Upon further inspection the foreign object is a set of handcuffs.
Douglas proceeds to handcuff Cactus. Uh oh.
With Cactus' hands stuck behind him he rammed himself into Douglas earning him a chair shot to the head.
Make that 2.
Make that 3.
Make that 4.
Make that 5.
Make that 6.
Make that 7.
Add a chair shot to the back for Douglas. To quote Jim Ross.
Douglas grabbed the mic and asked Hildebrand to get Cactus' submission.
When he refused and called out for Vince McMahon Douglas nailed him again with the chair. Yikes!
Cactus then beckoned Mikey Whipwreck whom he turned on.
Yet another chair shot to the head.
One more for good measure.
Douglas then hooked the figure-four leg lock.
Mikey ran in and clobbered Cactus with a chair to the head.
Cactus is OUT COLD.
1-2-3.
Rating: ***
Summary: Vicious match that could have ended Cactus' ECW career but I'm certain he wants a piece of Whipwreck's hide before he leaves.
After the match Shane mimics Ric Flair by grabbing the ropes while maintaining the hold.
Match 10 for the ECW World title: Raven (champion w/ Meanie, Stevie, and Kimona) versus the Sandman (w/ Missy Hyatt)
Highlights:
Sandman made his entrance from above the front door rather than backstage.
Missy and Sandman shared both a cigarette and a beer before the match.
After Raven tossed Sandman outside the ring he hit what can be loosely translated into a plancha of sorts.
After a chair shot to the head (didn't the last match have enough of them?) Raven whipped Sandman into the steel railing.
He tried again but was reversed and sent into the steel railing.
Delayed brainbuster by Sandman.
Slingshot somersault senton.
Plancha. Who thought the Sandman knew lucha libre?
Blue Meanie got up on the apron and distracted Sandman.
Raven nailed Sandman in the back with a chair.
DDT on the chair by Raven, but referee John Finnegan was distracted by Missy. Wouldn't you be?
DDT on the chair by Sandman.
Kimona made the save so Missy entered the ring and began a CATFIGHT!
After the women were ejected Stevie came into the ring and nailed Sandman with a Stevie-kick.
In the midst of Sandman's slamming Raven Finnegan went down.
Immediately Sandman mounted the top turnbuckle and hit a leg drop.
As both wrestlers stumble over the chairs in the ring Finnegan went down AGAIN.
Meanie and Stevie re-entered the ring but ate cane shots from Sandman.
The Bruise Brothers ran in and ate cane shots.
Double slam by the Bruise Brothers.
After setting up a chair Raven and Sandman botch a suplex of sorts. Oops.
Raven set Sandman up on the top rope for a superplex but ended up ramming him head-first into the chair.
DDT on the chair.
1-2-3.
Rating: *1/2
Summary: Terrible rushed main event with too much interference.
After the match the crowd rightfully chants "bullshit." Blue Meanie dances over Sandman then opens a beer. Unfortunately he spills it waking up Sandman. Meanie responds with three cane shots. However, Sandman comes back and WALLOPS Meanie with three cane shots of his own. Raven runs back in only to get hit by the cane. The Bruise Brothers receive the same treatment. A cry for "Mommy" by Sandman brings Missy back to the ring. Quite the anti-climactic ending.
Conclusion: You may have noticed that in spite of all the chaotic brawling in the matches there was NO blood. Why was that? It was due to the recent news that boxer Tommy Morrison had been diagnosed with AIDS and was forced to retire from professional boxing. The flagrant act of blading and the publicity would have been messy if there was blood on this show; therefore, Heyman instructed his wrestlers not to do so.
Regardless seek out the Sabu-Scorpio match and Pillman's chaos and avoid the rest.
See you for WWF In Your House VI!
Buyrate: NONE (They were not on PPV yet.)
Comments? Suggestions? Send them to me at rsg@rockstargary.com and follow me on Twitter (@rockstargary202).
Custom Search