WELCOME TO ROCK STAR GARY REFLECTIONS!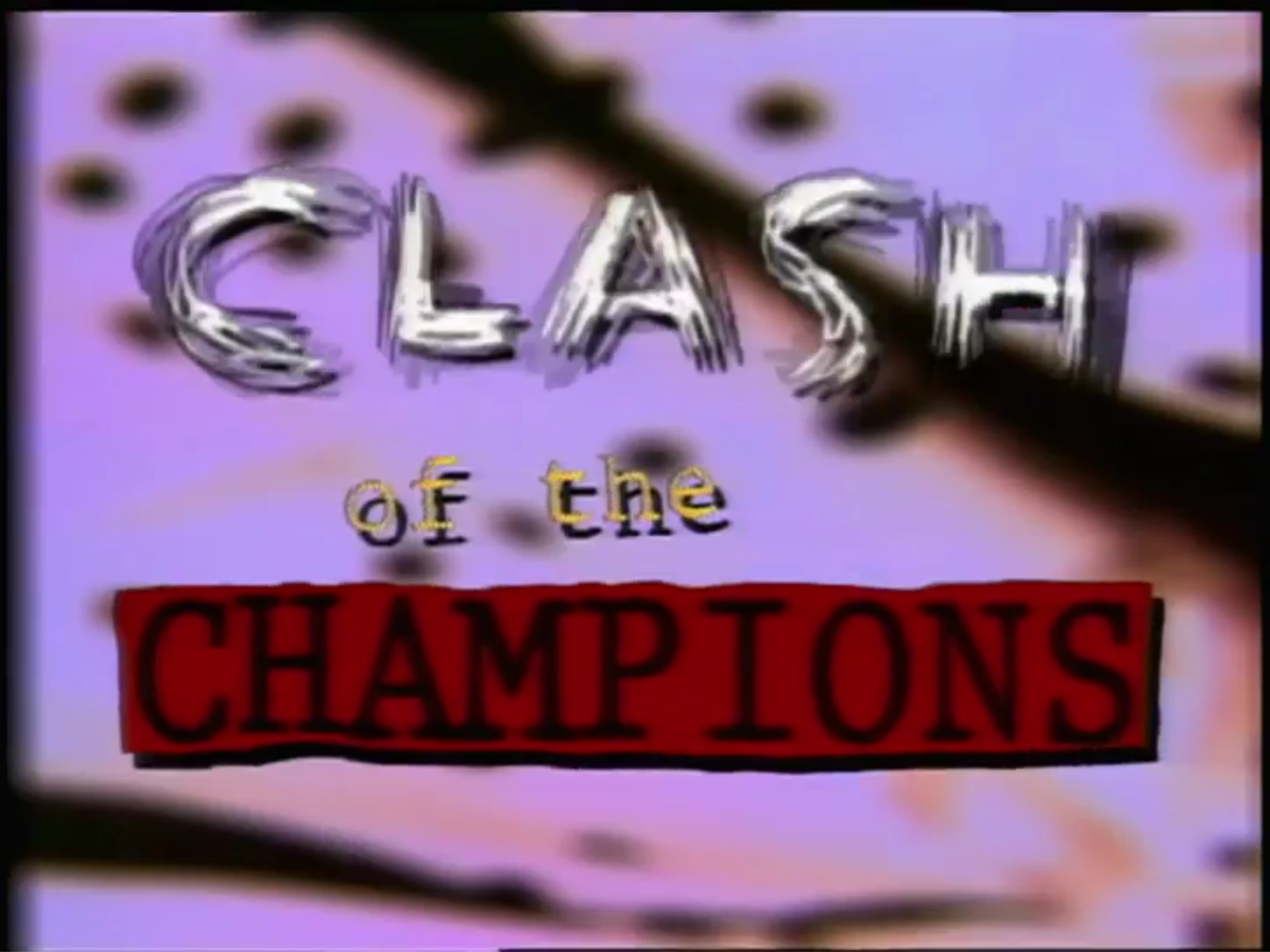 WCW Clash of the Champions XXXV
Live from Nashville, TN
Airdate: August 21, 1997
Attendance: 4,122
Hosted by Tony Schiavone, Bobby 'The Brain" Heenan, and the "American Dream" Dusty Rhodes
With four title matches, who will retain and who can achieve gold? Will Sting answer Dillon's ultimatum? If so, how? Let's find out!
Prior to the opening match, we revisit last Monday's Nitro when Sting rejected another unremarkable contract offer from J.J. Dillon, and the Birmingham faithful notified him what Sting wanted.
Match 1 for the WCW US title: Jeff Jarrett (champion w/ Debra) versus Steve "Mongo" McMichael
Highlights:
Jarrett slammed him, but Mongo reversed a cross corner whip.
Although Jarrett floated over, Mongo evaded him.
Jarrett then gave Mongo a three-point stance tackle in a reversal of roles.
When Mongo reversed an Irish whip, he clotheslined Jarrett.
Clash XXXV was sponsored by Valvoline.
After a commercial break, Jarrett rammed Mongo face-first into the steps twice.
Back in the ring, Jarrett distracted referee Randy Anderson so that Debra could pull Mongo's hair. Nefarious!
Jarrett then gave Mongo a running guillotine followed by a vertical suplex.
As he hooked a sleeper, the Nashville faithful chanted "Mon-go."
Their hero then hooked his own sleeper while Debra distracted Anderson.
Suddenly, Eddie Guerrero came to the ring, mounted the top turnbuckle, but inadvertently CREAMED Jarrett with the US title belt.
Mongo then dispatched Eddie over the top rope to the floor.
1-2-3.
WE HAVE A NEW CHAMPION!
Rating: *
Summary: For the second time in three years, Jarrett lost a title in his hometown. As expected, he carried the match until the finish. While the match wasn't worth much, the Nashville faithful ate it up with a spoon.
After the match, Debra tries to reconcile with Mongo ("I knew you could do it all along.") However, Mongo replies "it ain't gonna be that easy" and storms off.
At the entrance, "Mean" Gene Okerlund interviews Wright. When he requests that Wright speak only in English, Wright instead verbalizes in German. Okerlund then threatens to pull the interview, and Wright cuts a promo on Dragon in English while stammering through a bad joke.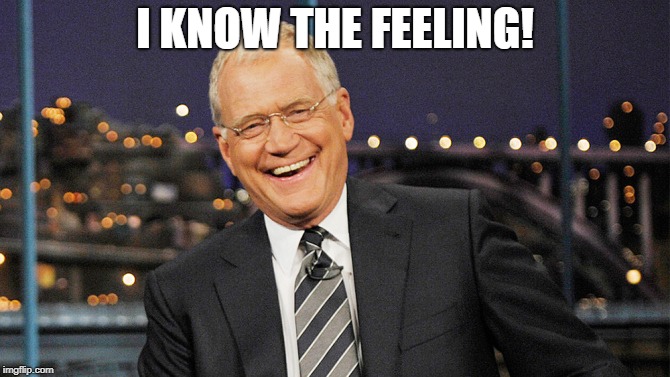 Promotional consideration paid for by the following: Motel 6, Arm & Hammer toothpaste, and Tootsie Roll.
On WCW Saturday Night, hey....I already told you about this in my Nitro reflection! Watch it already!
On the set of Dinner & A Movie, Okerlund interviews Paul Gilmartin and Claude Mann. As Okerlund plugs The Jerk tomorrow night on TBS, Gilmartin states he and Claude are making "big jerk chicken."
Match 2: Raven versus "Dancin'" Stevie Richards
Highlights:
This match marked Raven's WCW wrestling return as he entered through the Nashville faithful.
Before the match began, Raven requested a no-DQ stipulation for the match.
After Raven tossed Richards to the floor, he hit a plancha. Wow!
Schiavone then pointed out that Raven wore an elevated boot on his right foot.
As Richards hooked a backslide, he got a 1-count.
Raven then dumped Richards outside the ring again and hit a Cactus elbow from the apron.
When he brought a chair into the ring, Raven gave Richards a drop toe hold onto it. OUCH!
He then bulldogged Richards onto the chair.
After Raven set up a chair in the corner, Richards reversed a cross corner whip sending Raven into it.
He then delivered a flying head butt followed by a sidewalk slam for 2.
As Richards attempted a Steviekick, Raven blocked it but got rolled up for another 2.
Raven then clotheslined Richards for 2.
Ultimately, he hit a DDT.
1-2-3.
Raven won.
Rating: *1/2
Summary: Showcase match for Raven.
Promo for the WCW Power Plant airs.
"Iron" Mike Tenay introduces a video featuring Ultimo Dragon. At this point, WCW finally corrects itself by calling him Ultimo rather than Ultimate.
Match 3 for the WCW World TV title: Ultimo Dragon (champion) versus "Das Wunderkind" Alex Wright
Highlights:
Tenay then joined the broadcast table for this match.
When Wright reversed a cross corner whip, Dragon performed a headstand on the top turnbuckle.
He then unleashed a series of kicks, but Wright countered a rear chin lock with a jawbreaker.
As Dragon attempted a leap frog, Wright caught and powerbombed him.
He then gave Dragon a cross corner whip followed by a backbreaker for 2.
After he delivered the same two maneuvers again, Wright got another 2.
He then gave Dragon a third cross corner whip followed by a gutwrench suplex. Unfortunately for Wright, he couldn't get 3.
During the commercial break...
THE FOLLOWING ANNOUNCEMENT HAS BEEN PAID FOR BY THE NEW WORLD ORDER:
Buy the shirt! Send it to Rock Star Gary. Make it an XL.
THE PRECEDING ANNOUNCEMENT HAS BEEN PAID FOR BY THE NEW WORLD ORDER.
Afterward, Dragon leap-frogged him, but Wright clotheslined him.
He then slammed Dragon, mounted the top turnbuckle, and hit a flying stomp.
When he applied a rear chin lock, Wright put his feet on the bottom rope. SNEAKY!
Dragon escaped and hooked a sleeper.
As Wright escaped, Dragon gave him a belly-to-back suplex.
Wright rebounded with his own belly-to-back suplex, but Dragon dropkicked him from the apron to the floor.
After Dragon WHIFFED on a plancha, he reversed an Irish whip sending Wright back-first into the steel railing.
He then hit an Asai moonsault, placed Wright atop the top turnbuckle, joined, and delivered a front suplex.
When he hooked la magistral cradle, Dragon got 2.
He then gave Wright a cross corner whip, attempted a handspring elbow, but Wright CLOCKED him with a back elbow.
As Wright attempted to pin Dragon with his feet on the ropes, he only got 2.
A pinfall reversal sequence occurred, and Wright followed with a German suplex with a bridge.
Do we have a new champion?
1-2-3!
WE HAVE A NEW CHAMPION!
Rating: ***
Summary: It did not take Wright long to secure another title upon losing the Cruiserweight title. With Jericho regaining the Cruiserweight title recently and Wright winning here, Terry Taylor's booking reset itself from the PPV. Hmmm...I wonder who got to keep their belts.
During the commercial break, Public Enemy shills the WCW Monday Nitro backpack.
Match 4 for the WCW Cruiserweight title: "Lionheart" Chris Jericho (champion) versus Eddie Guerrero
Highlights:
Eddie argued about a hair pull with referee Mark Curtis.
As Curtis polled the fans at ringside, Eddie referred to them as a "bunch of rednecks." HA!
Jericho then military-press-slammed and flapjacked Eddie.
When Eddie ambushed him, he gave Jericho a flying back elbow.
He then hit a springboard senton splash, placed Jericho atop the top turnbuckle, joined, and delivered a super huracanrana for 2.
After he leaped to the top turnbuckle, Jericho powerbombed him.
He then gave Eddie a giant swing with nine rotations. Even I'm dizzy.
As Jericho hit a spinning heel kick, Eddie fell to the floor.
Jericho then attempted a springboard cross body block, but his feet caught the top rope. Following that, he CRASHED to the floor.
After Jericho suplexed Eddie from the ring to the floor, he mounted the top turnbuckle.
Eddie caught, joined, and gave Jericho a top rope superplex for 2. Wow!
When Jericho delivered a release German suplex, he got 2.
Jericho then leap-frogged Eddie who hooked a sunset flip.
As Jericho escaped, he rolled up Eddie for 2.
He then rolled Eddie up again.
1-2-3.
Jericho retained.
Rating: **1/2
Summary: Regrettably, I must deduct ½* for the obvious botch. Otherwise, these guys busted ass to thrill the Nashville faithful. On the other hand, crowds still don't fully support babyface Jericho.
After the match, Eddie dropkicks Jericho. He then delivers a brainbuster, mounts the top turnbuckle, and hits a frog splash. It would seem that Eddie's full of Latino heat.
Valvoline sponsors the replay.
Promo airs for Fall Brawl '97 LIVE on PPV on 9/14. Order NOW!
Partido 5: Juventud Guerrera, Hector Garza, Lizmark, Jr. y Super Calo contra Psicosis, Silver King, y los Villanos IV y V (w/ Sonny Onoo)
Reflejos:
Tenay again joined the broadcast table for this match. As he mentioned Las Vegas, Tenay shilled Halloween Havoc '97 on 10/26.
IV clotheslined Calo and followed with a tilt-a-whirl backbreaker for 2.
When Garza tagged in, he mounted the top turnbuckle and lowered the boom on IV.
He then whipped IV into the tecnico corner but came up empty on his follow-through.
As Silver King tagged in, he also came up empty on his follow-through.
Garza then gave Silver King a tilt-a-whirl backbreaker, and a clothesline by Garza sent both wrestlers over the top rope to the floor.
vAfter tags were exchanged on both sides, Psicosis delivered a superkick to Guerrera.
From the apron, IV gave a double headscissors to both Garza and Lizmark. Jr.
IV and Silver King then delivered stereo monkey flips, but both got backdropped over the top rope to the floor.
When Calo hit a somersault plancha, Lizmark Jr. followed with a tope.
Guerrera then delivered a springboard dive onto the four luchadores.
As V hit a tope suicida, Garza bowled a strike with a corkscrew plancha.
Calo then placed Psicosis atop the top turnbuckle, but Onoo grabbed Psicosis' ankle.
After Psicosis mounted the top turnbuckle, he gave Calo a guillotine leg drop.
1-2-3.
Psicosis, Silver King, y los Villanos ganan.
Rating: **
Summary: Spotfest, as you'd expect, but these hombres busted their ass too. Sadly, the Nashville faithful went out for popcorn.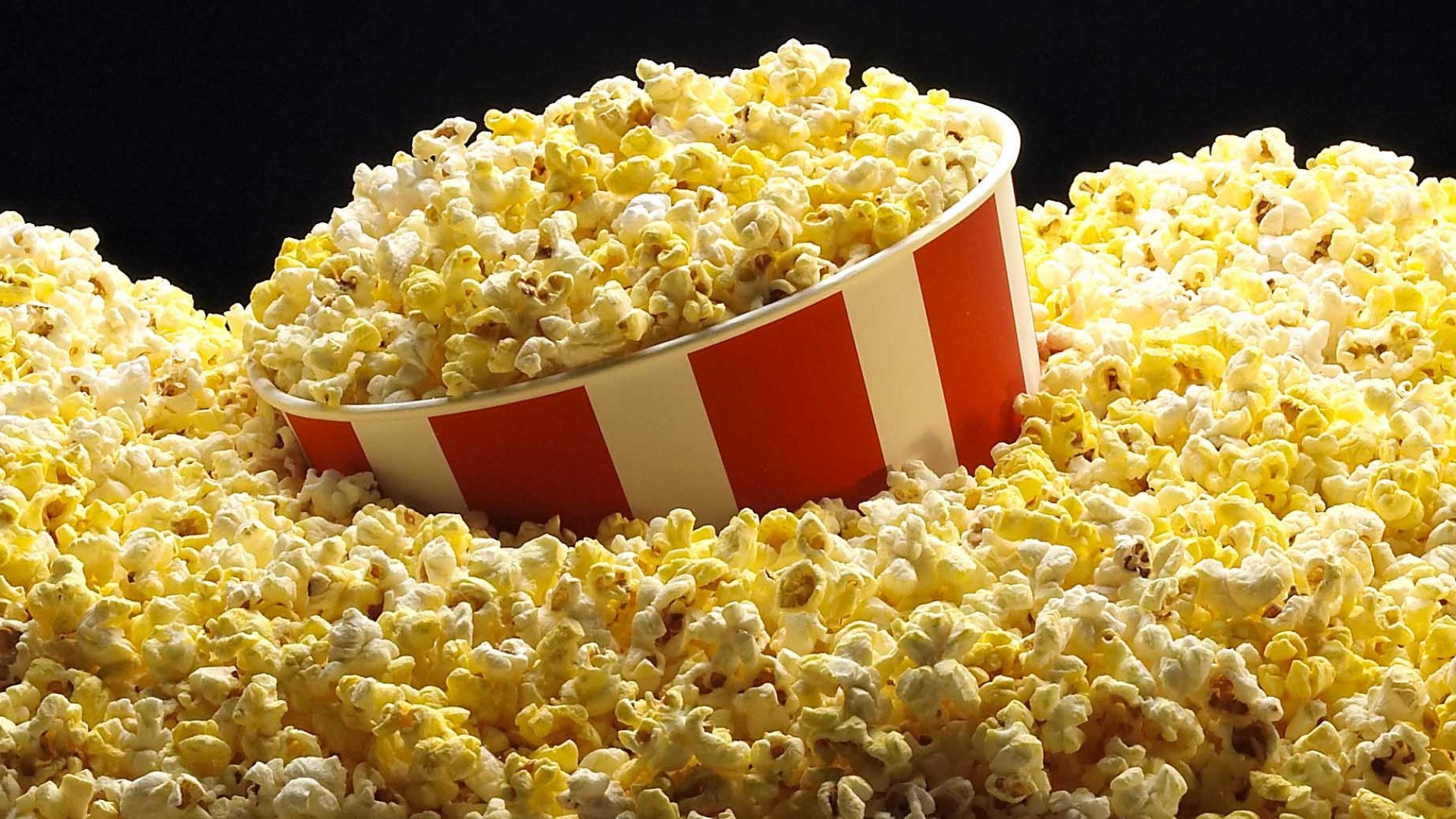 On the set of Dinner & A Movie, Okerlund shills The Jerk tomorrow night right after Braves baseball. Mann then announces that they have "Macho Nachos, Macho Mayo, Savage garden salad, Macho gazpacho, and nWokra. To top it off, Gilmartin adds "WCW cream puffs" for DDP. Both Mann and Gilmartin then open their shirts to reveal nWo t-shirts.
Savage emerges to celebrate the new celebrity members and informs OKerlund that he's not leaving. We then revisit a previous episode of Dinner & A Movie when Savage made a surprise appearance. While an nWo cake gets its candles lit, DDP arrives, destroys the set, and delivers the Diamond Cutter to Gilmartin.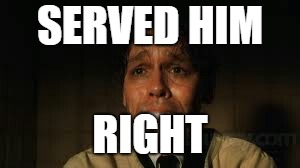 Promotional consideration paid for by the following: Slim Jim, Eagle One, and Lava soap.
Lee Marshall then delivers the 1-800-COLLECT road report from "Columbia, SC." Ain't no way in hell that WCW allowed Marshall to stay in Columbia for four days.
Match 6: "Nature Boy" Ric Flair & Curt Hennig versus K-Dogg & Syxx
Highlights:
Tags were exchanged on both sides while Syxx reversed a cross corner whip and backdropped Flair.
As Flair rebounded with a knee drop, he got 2.
He then reversed a cross corner whip and backdropped Syxx.
When Hennig tagged in, he delivered a knee lift.
Flair then distracted referee Randy Anderson while Syxx and K-Dogg double-teamed Hennig.
After K-Dogg missed a dropkick, Flair attempted the figure-four leg lock.
Inadvertently, Hennig sent Syxx into Flair. Or was it?
Hennig then hooked a fisherman's suplex.
1-2-3.
Flair and Hennig won.
Rating: *
Summary: If Flair and Hennig are going to team together going forward, they need to communicate better. At the point that Flair distracted Anderson, the match became disjointed; thus, the finish didn't occur naturally.
In the ring, Okerlund interviews Flair and Hennig. When he asks Hennig about his status as a Horseman, Hennig says "no." Flair eagerly re-asks the question, and Hennig repeats his negative response. Maybe we'll learn more on Nitro.
Clash XXXV is sponsored by Wrigley's Winterfresh gum. Methinks that's what Hennig's always chewing.
Match 7 for the WCW World tag team titles: Scott Hall & "Macho Man" Randy Savage (champions w/ the nWo) versus The "Total Package" Lex Luger & Diamond Dallas Page
Highlights:
Savage substituted for the lazy Kevin Nash. I guess the Freebird rule was in effect.
Buffer rumbled.
When the nWo made its entrance, balloons fell from the ceiling.
More balloons fell as Nash declared this to be a title match despite his lack of involvement.
As Hall used momentum to send Luger to the floor, Nash blindsided Luger. How dastardly!
Since referee Nick Patrick saw the infraction, Nash was ejected from ringside.
Savage tagged in, mounted the top turnbuckle, and lowered the boom on Luger.
After DDP tagged in, he gave Hall an inverted atomic drop and followed with a clothesline to Savage.
Speaking of Savage, he reversed an Irish whip, and Hall tripped DDP coming off the ropes.
Hall tagged in and delivered a fallaway slam for 2.
Shortly after, Savage hit an elbow drop for another 2.
When Luger distracted Patrick, Hall nailed Luger on the floor.
Savage then leaped from the apron with a double axe handle.
Next, Savage made DDP taste the steel railing. It must have tasted like the Carnivore at the Stillery.
As Hall tagged in, he gave DDP a cross corner whip followed by a corner clothesline.
Shortly after, DDP delivered a discus clothesline to Hall.
Hot tag Luger.
He then hooked the Torture Rack on Hall, but Savage made the save.
After Savage blinded DDP, Hall sent Luger into him.
DDP then mistakenly hit the Diamond Cutter on Luger.
1-2-3.
Hall and Savage retained.
Rating: ***
Summary: Hot main event where chicanery by the nWo allowed them to win.
After the match, paper falls from the ceiling. Hall holds one up, and it reads "nWo: the 1st year too sweet!"
Eric Bischoff leads the nWo to the ring for their first birthday celebration. As Bischoff thanks both Hall and Nash, he again requests his own show. He then demands "bigger limos and newer Learjets" from Ted Turner. His microphone deadens as the lights flicker.
Suddenly, Sting appears in the rafters holding a vulture. The following poem is read in a young boy's voice: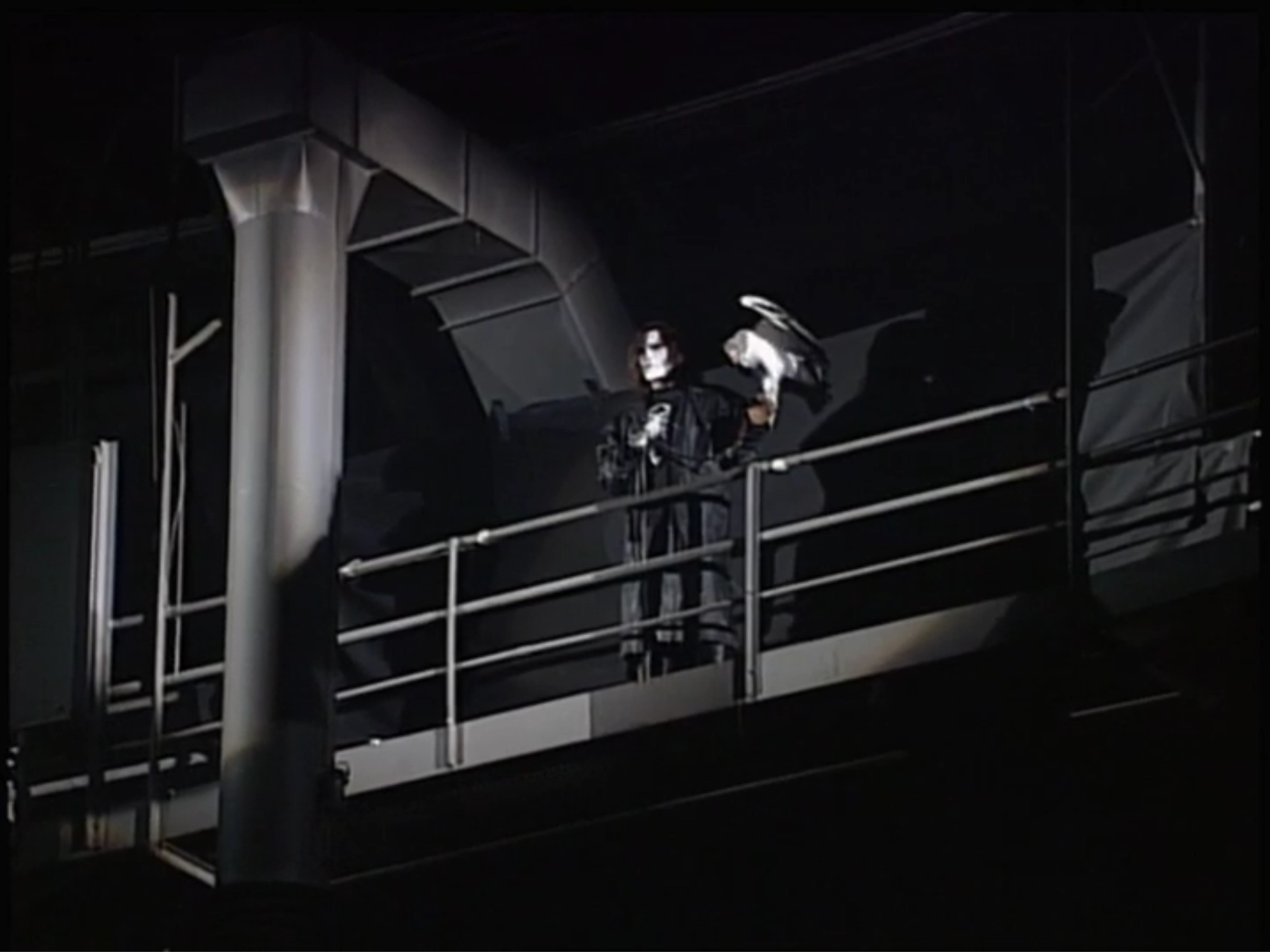 "When a man's heart is full of deceit, it burns up, dies, and a dark shadow falls over his soul.

From the ashes of a once great man has risen a curse.

A wrong that must be righted.

We look to the skies for a vindicator.

Someone to strike fear into the black hearts of the same men who created him.

The battle between good and evil has begun.

Against an army of shadows comes a dark warrior.

The purveyor of good with the voice of silence and a mission of justice.

This is Sting."
The lights dim again for an eternity. When they illuminate, the vulture sits atop the top rope, and the nWo stands in disbelief. Bischoff is supposed to retrieve a note from the vulture, but It's missing. With all the paper in the ring, he should have improvised. According to Meltzer, the note read "Hogan's soul." Without commentary, the show goes off the air while the nWo fear the vulture.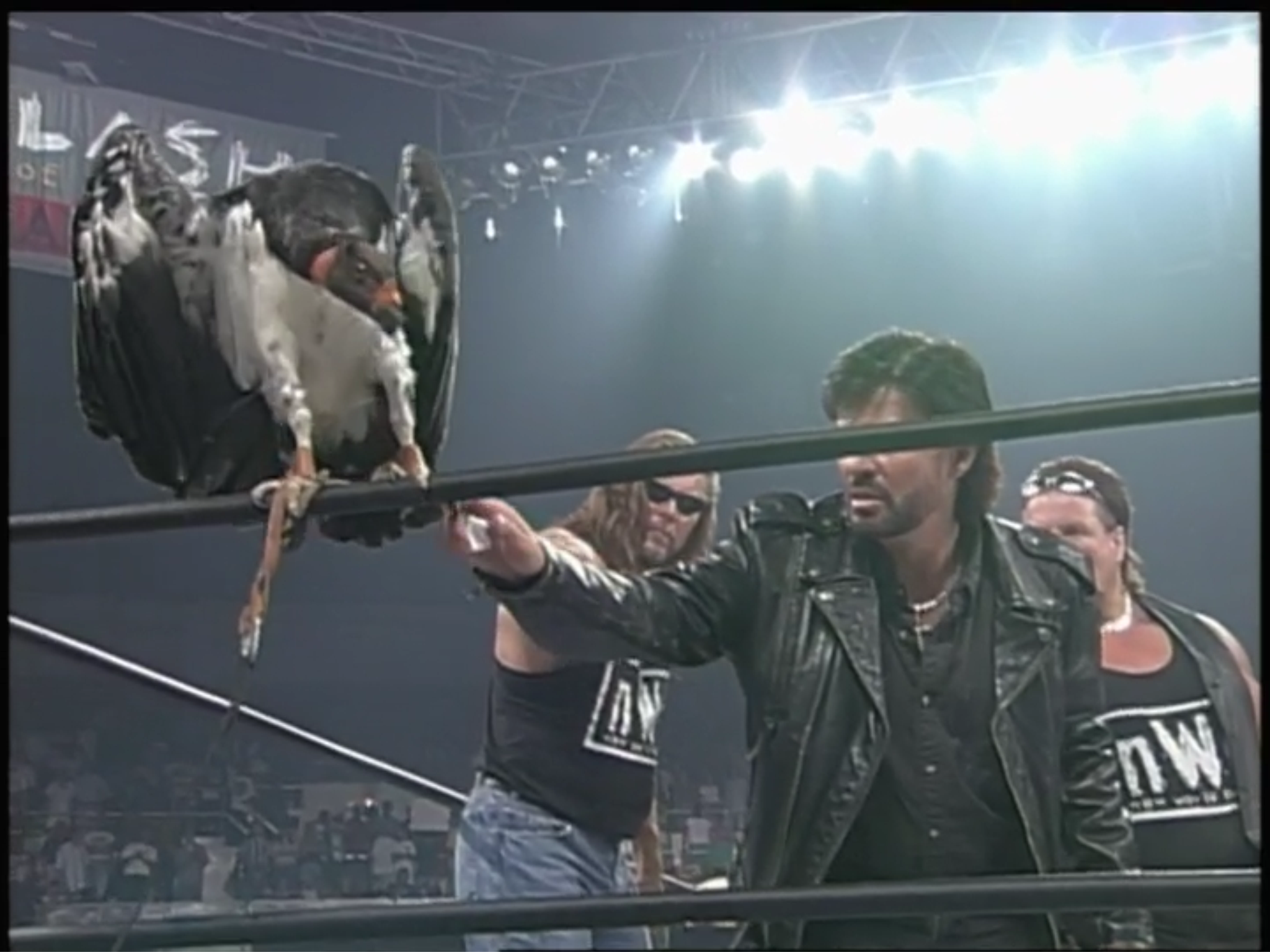 Conclusion: Welcome to the prototype for WCW Thunder. Earlier in the week, TBS executives approved a second live wrestling show albeit on TBS rather than TNT. Having said that, the Clash concept was passe, and Thunder would replace it on a regular weekly basis.
As far as the show goes, two title changes along with progression in the Sting versus now storyline make this an easy recommendation to see. Keep in mind that the show was programmed like Nitro rather than a PPV.
TV Rating: 3.6
Stay tuned for WCW Monday Nitro 08-25-97!
Comments? Suggestions? Send them to me at rsg@rockstargary.com and follow me on Twitter (@rockstargary202).
Custom Search