WELCOME TO ROCK STAR GARY REFLECTIONS!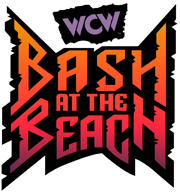 Live from Daytona Beach, FL
Airdate: July 7, 1996
Attendance: 8,300 (6,400 paid)
Hosted by Tony Schiavone, Bobby "The Brain" Heenan, and the "American Dream" Dusty Rhodes
As Tony, Heenan, and Rhodes welcome us to the show, security guards stand on both sides of them. Rhodes mentions that Eric Bischoff may be held hostage. Hmm…
Match 1: Psicosis versus Rey Mysterio, Jr.
Highlights:
"Iron" Mike Tenay joined the broadcast team for this match.
Arm drag by Mysterio sent Psicosis through the ropes down to the floor.
Single-leg crab by Mysterio countered into a bow-and-arrow by Psicosis.
Fujiwara arm bar by Mysterio, but Psicosis countered with a double arm scissors.
Psicosis avoided a springboard moonsault and then hit Mysterio with a leg lariat sending him down to the floor.
He then nailed Mysterio with a tope con hilo. Wow!
Back in the ring, Psicosis delivered a slam followed by a leg drop and got 2.
After another slam, Psicosis mounted the top turnbuckle and hit a guillotine leg drop for 2.
He then guillotined Mysterio with his legs while using the bottom rope.
After giving Mysterio a cross-corner whip, Psicosis mowed Mysterio down with a running clothesline. Mysterio allegedly sat up and asked "Who got the license plate of that truck?"
With both men on the apron, Psicosis charged at Mysterio but hit the ring post.
Mysterio then leaped from the apron and delivered a huracanrana.
Next, Mysterio hit the not-yet-named West Coast Pop but only got 2.
Mysterio tied Psicosis up in the corner then gave him a dropkick for 2.
Psicosis vaulted Mysterio overhead and guillotined him on the top rope.
Scorpion death drop by Psicosis, but Mysterio exited the ring to regroup.
Psicosis joined him then guillotined him on the steel railing.
With Mysterio on the floor, Psicosis mounted the top turnbuckle and hit a senton. Amazing!
Back in the ring, Psicosis delivered an enziguri and got another 2 count.
Flying headscissors by Mysterio was followed by a springboard dropkick.
He then mounted the top turnbuckle and hit another huracanrana to the floor. Holy flying squirrels, Batman!
Springboard splash by Mysterio only got 2.
Psicosis reversed an Irish whip but ate a dropkick.
Springboard dropkick by Mysterio sent Psicosis down to the floor yet again.
Corkscrew Asai moonsault by Mysterio hit not only Mysterio but also the steel railing. OUCH!
West Coast Pop attempt #2 was countered into a powerbomb for 1,2, NO!
After pancaking Mysterio into the corner, Psicosis mounted the top turnbuckle.
Splash mountain attempt by Psicosis, but Mysterio countered with a superhuracanrana.
1-2-3!
Rating: *****
Summary: Outstanding opener to the show. Tenay's commentary added a lot to the match as well.
Backstage, "Mean" Gene Okerlund interviews US champion Konnan who vows to retain his title against Flair.
Match 2 (Silver dollars on a pole): Big Bubba (w/ Jimmy Hart) versus John Tenta
Highlights:
And now for something completely different…
Wait a minute! Wasn't Russo employed by the WWF at this point in time? What's with a item on a pole in a super heavyweight match?
As Bubba entered the ring, Tenta charged at him yet ate a back elbow.
Tenta reversed an Irish whip and gave Bubba a shoulder block.
After ramming Bubba face-first into the top turnbuckle, Tenta made attempt #1 at the sock.
Bubba caught him then gave him an uppercut that knocked Tenta into the middle of 1997.
Bubba made attempt #1, but Tenta caught him and sent him down to the mat the hard way.
Attempt #2 by Tenta was thwarted by a belly-to-back suplex.
Attempt #2 by Bubba, but Tenta crotched him on the top turnbuckle.
He then used the top turnbuckle to give him an atomic drop.
Tenta tossed Bubba outside the ring and made attempt #3.
Smartly, he dismounted from the turnbuckle to try to unhook the pole.
Bubba caught him and choked him with a belt.
He then pulled some athletic tape from his pocket and tied Tenta to the second rope.
Bubba then nailed Tenta with the belt wrapped around his hand.
Next, he whipped Tenta with the belt.
Hart gave Bubba a pair of scissors so that Bubba could cut more hair from Tenta's head.
In retaliation, Tenta nailed Bubba down near Key Largo.
Wisely, Tenta used the scissors to free his arm.
He then cut one of the segments that held up the pole before Bubba caught him again.
After ringing Tenta's bell, Bubba gave him a spinebuster.
Bubba instructed Hart to climb the pole to retrieve the sock.
In the meantime, Tenta gave Bubba a powerslam.
When Hart came down from the pole, Tenta swiped the sock from him.
He then turned Bubba's lights out.
1-2-3.
Rating: **
Summary: While not a wrestling exhibition, it was certainly entertaining.
After the match, Tenta puts silver dollars on Bubba's eyes symbolizing his death.
Backstage, Okerlund interviews Sting, Luger, and Savage who all wear face paint in unity. They are ready for the attempted hostile takeover.
Match 3 for the LOTR ring (taped fist): Diamond Dallas Page (holder) versus "Hacksaw" Jim Duggan
Highlights:
Shoulder block by Duggan sent DDP between the ropes down to the floor.
After guillotining Duggan while using the top rope, DDP used athletic tape to tie Duggan's boots around the ring post.
While Duggan was trapped, DDP removed the tape from Duggan's fists.
Duggan nailed DDP who tumbled down the steel steps.
Outside the ring, Duggan whipped DDP into the steel railing then rammed him back-first into the ring post.
Next, he suplexed DDP back into the ring.
Suplex attempt #2 was blocked by DDP who then gave Duggan a single-arm DDT.
Duggan reversed a cross-corner whip but ate a back elbow on his follow-through.
DDP mounted the top turnbuckle, but Duggan shook the ropes crotching him. YEE-OUCH!
He then face-planted DDP.
Afterward, Duggan gave DDP the ten-turnbuckle count-along.
A clothesline by Duggan sent DDP over the top rope to the floor.
As Duggan was trying to re-enter the ring, DDP kicked the second rope crotching Duggan.
He then delivered the Diamond Cutter.
1-2-3.
DDP retained.
Rating: *1/2
Summary: With the exception of taping Duggan around the ring post, the taped fist stipulation was avoided. The DDP monster push continues.
After the match, Duggan tapes his fist and knocks DDP OUT COLD.
Back in the locker room, Okerlund interviews the Giant and the Taskmaster with Hart. While the Dungeon of Doom speak of home court advantage (Sullivan lives in Daytona), the Giant wants Horse(man) stew for dinner.
At the entrance, Lee Marshall interviews the Texas Hangmen Benoit and Arn. Benoit once again claims to be silent but violent.
Match 4 (dog collar): The Nasty Boys versus the Public Enemy
Highlights:
Rocco and Grunge brought a table to the ring.
Tony again mentioned that Bischoff's status was officially "MISSING." Someone please notify law enforcement!
Knobbs leaped from the apron and hammered Grunge with the chain.
He then whipped Grunge back-first into the steel railing.
While Knobbs whipped Grunge into the ring post, Rhodes coined the phrase "double trouble Bash at the Beach bubble." Bartender, I'll have what he's having.
Simultaneously, Rocco hit Sags with a trashcan lid, and Knobbs walloped Grunge with the accompanying trash can.
Rocco mounted the steel railing and nailed Sags in the shoulder with the chain. OUCH!
He tried again, but Sags crotched him on the steel railing. YEE-OUCH!
In a laughable moment, Grunge and Knobbs headed to the beach setup by the entrance. Knobbs then nailed Grunge with an inflatable shark. I think Grunge is going to need a bigger boat.
Sags nailed Rocco with a surfboard while Tony sold it like it was violence on 125th Street.
Grunge was double-teamed with a chair by Knobbs and the surfboard by Sags.
Next, Knobbs covered Grunge on the surfboard for 2.
That was followed by a bulldog by Grunge to Knobbs on the chair.
Rocco mounted the lifeguard stand and nailed Sags with a boot to the head.
More chair shots by Knobbs to Grunge got 2 on the boardwalk.
Rocco remounted the lifeguard stand, but Sags pulled it down along with Rock. LOOK OUT BELOW!
Elbow drop from Knobbs got 2 on Grunge.
Table suplex from Sags to Rocco was followed by a PILEDRIVER ON THE CONCRETE FLOOR!
Can someone please cue "Taps?" Thank you.
With Sags on the table, Rocco mounted the steel railing again and splashed Sags through the table.
Once all four men returned to ringside, Sage put another table in the ring.
Grunge then rammed Knobbs face-first into it.
With Sags on the table, Rocco mounted the top turnbuckle, but Sags pulled him down onto the table which DIDN'T break. OUCH!
Sags wrapped his elbow with the chain and nailed Rocco on the table, and it still DIDN'T BREAK!
As Knobbs hanged Grunge over the top rope, Sags whipped Rocco into it clotheslining him.
Sags then pinned him.
Rating: *
Summary: Rocco sacrificed his body for our pleasure.
After the match, Grunge knocked Knobbs OUT COLD with a chain shot to the head. Immediately afterward, Rocco pulled Sags off the apron onto the table which FINALLY broke. Wow!
Okerlund stands in front of the locker room occupied by the Outsiders.
Match 5 for the WCW Cruiserweight title: Dean Malenko (champion) versus Disco Inferno
Highlights:
An angry Malenko began the match by slapping Disco Inferno in the face.
He then tossed Disco Inferno through the ropes down to the floor.
Malenko followed Disco Inferno and then whipped him back-first into the steel railing.
Relentlessly, he rammed Disco Inferno face-first into the ring post.
Cross-corner whip by Malenko was followed by a clothesline.
Spinning heel kick by Malenko got 2.
Wicked brainbuster by Malenko only got 2.
Belly-to-back suplex by Malenko was followed by a dragon screw leg whip.
Dropkick to the back of the head got 2 for Malenko.
Disco Inferno reversed a cross-corner whip but fell victim to a sunset flip for 2.
Cross-corner whip by Disco Inferno was followed by a right hand putting Malenko down on the mat for the first time.
After an Irish whip, Disco Inferno delivered a hot shot.
A face plant by Disco Inferno got 2.
Malenko came back and tossed Disco Inferno through the ropes to the floor.
Upon joining him, Malenko whipped Disco Inferno ribs-first into the steel railing.
Springboard leg drop by Malenko got 2.
After a cross-corner whip by Disco Inferno, Malenko sailed over the top turnbuckle, mounted it, and attempted a double axe handle.
Disco Inferno blocked it and countered with a hangman's neckbreaker.
That only got 1 due to Malenko's putting his foot on the ropes.
Back drop by Disco Inferno only got 2.
Swinging neckbreaker by Disco Inferno, but he stopped to dance.
Realizing he needed to capitalize, he made a cover yet only got 2.
After giving Disco Inferno a cross-corner whip, Malenko nailed him with a springboard dropkick.
Malenko attempted the Texas Cloverleaf, but Disco Inferno countered with an inside cradle.
Do we have a new champion?
1-2-NO!
Clothesline by Disco Inferno only got 2.
After an Irish whip, Disco Inferno attempted a hip toss but received a clothesline instead.
Tiger bomb followed by the Texas Cloverleaf got the submission for Malenko.
Malenko retained.
Rating: ****
Summary: If Disco Inferno had a better match in his career, I dare anyone to find it. Malenko made Disco Inferno, a comedy character, into a legitimate contender for his title. That takes a lot of talent.
Match 6: Steve "Mongo" McMichael (w/ Debra) versus "Desperado" Joe Gomez
Highlights:
Keep in mind, this was Mongo's singles debut and third match EVER.
Debra brought a poodle to the ring with her.
After giving Gomez a cross-corner whip, Mongo delivered a three-point stance clothesline.
Mongo then missed a back elbow.
Gomez hit a cross body block and got 2.
After blocking a shot to the top turnbuckle, Gomez tried the ten-top turnbuckle count-along only to succumb to Mongo's trick knee. OUCH!
Backbreaker by Mongo got 2.
Sleeper by Mongo was countered into a jawbreaker.
Mongo fell backward like a California sequoia being chopped down. TIM-BER!
Hangman's neckbreaker by Mongo only got 2.
He then attempted a figure-four leg lock, but Gomez countered with an inside cradle and got the pin.
Oh, wait, he only got 2.
After a slam, Mongo missed an elbow drop.
Gomez countered a piledriver attempt into a back drop.
Chops off the ropes by Gomez were followed by a pair of dropkicks.
Sunset flip by Gomez got 2.
Tombstone piledriver got the pin for Mongo.
Rating: *
Summary: I realize that Mongo was a very successful professional football player; however, showcasing his first singles match on PPV was a bad idea. Neither man was a good ring general, and some of the moves were not very crisp whatsoever. If anything, this match established that Mongo's finisher was the tombstone.
Back in the locker room, Okerlund interviews Flair with Woman and Elizabeth. Flair promises to win not only the US title but also the World title and then dances "La Cucaracha." Perhaps the cocktails were flowing early. Thereafter, Woman promises Okerlund a "private party." Lucky man.
Match 7 for the WCW US title: Konnan (champion) versus "Nature Boy" Ric Flair
Highlights:
Konnan had a bandage on the back of his head. Heenan described it as a "blowout." HA!
After a leap frog by Konnan, he delivered a dropkick.
Cross-corner whip by Flair reversed by Konnan into a back drop as Woman shrieked LOUDLY.
¾ surfboard by Konnan was followed by a gorilla press slam.
Gorilla press slam #2 preceded a clothesline.
Clothesline over the top rope by Konnan sent both men to the floor.
Konnan then delivered a clothesline from the apron to the floor. In the process, he knocked down Elizabeth. How rude!
Next, he mounted the top turnbuckle, but Woman shook the bottom rope making him lose his balance. Fortunately, he only fell back into the ring instead of the floor.
Knee drop by Flair got 2.
While Flair distracted referee Nick Patrick, Woman came into the ring and kicked a FIELD GOAL on Konnan. YEE-OUCH!
Tony summed it up perfectly by telling Heenan that "Konnan's digital scope is fuzzy too." HA!
While Elizabeth distracted Patrick, Flair tossed Konnan over the top rope to the floor.
As Konnan laid on the floor, Woman raked his eyes.
Delayed vertical suplex by Flair brought Konnan back into the ring and got a series of 2 counts.
Konnan came back with a ten-punch count-along in the corner.
That led to a Flair flop.
Cross-corner whip by Konnan resulted in a Flair flip.
Konnan then delivered a springboard dropkick knocking Flair off the apron.
Flair countered a sunset flip attempt with a knuckle sandwich.
Figure-four attempt by Flair was countered into an inside cradle.
1-2-NO!
Konnan then applied the figure-four leg lock, but Flair made the ropes and sought refuge on the apron.
Konnan gave Flair a vertical suplex to return him to the ring and got 2.
Cross-corner whip by Konnan, but he ate a back elbow on his follow-through.
Flair then mounted the top turnbuckle, but, sing it with me, ♬ he came down the haaaaaaaaaard waaaaaaaay! ♬
Face plant by Konnan only got 2.
Somersault clothesline by Konnan got another 2.
Konnan hooked an abdominal stretch and converted it into a pin attempt; however, Elizabeth got up on the apron to distract Patrick once again.
Woman got up on the apron and nailed Konnan with her shoe in a contrived spot.
Flair then pinned Konnan with his feet on the ropes.
WE HAVE A NEW CHAMPION! Wooooooooo!
Rating: ***
Summary: This was the first time since 1981 that Flair had held the US title. Using only what I've seen from Konnan matches in 1996, it was pretty obvious that his specialty was lucha libre. While technical wrestling wasn't foreign to him, wrestling hold-for-hold with Flair didn't achieve a great result.
Okerlund is backstage outside the Outsiders' dressing room and cannot distinguish a third voice emanating from it although it's familiar to him. According to Okerlund, Bischoff is still missing.
Match 8: Taskmaster & Giant (w/ Jimmy Hart) versus the "Enforcer" Arn Anderson & the "Crippler" Chris Benoit
Highlights:
Can the Horsemen get a clean sweep tonight?
As they made their entrance, Taskmaster and Giant ambushed them from behind.
Taskmaster then made Arn taste the steel railing. It must have tasted like the Calypso shrimp linguine from Bahama Breeze Island Grille.
He then nailed Arn with a chair.
Mongo came out and nailed the Giant in the back with the Haliburton.
The Giant then chased Mongo backstage.
Hart brought the Giant back as the Horsemen had the advantage on the Taskmaster.
Benoit and the Taskmaster scrapped down on the mat.
After Arn tossed the Taskmaster outside the ring, the latter thwarted an attack from Benoit and made him taste the steel railing twice. Waiter, can we please also get the West Indies chicken curry for the silent but violent man in red?
Benoit returned the favor. One more thing, waiter, we need Rebecca's key lime pie for the local boy in yellow.
The Taskmaster pulled Arn outside the ring and whipped him back-first into the steel railing.
Back in the ring, the Taskmaster fought out of the Horsemen corner then rammed their heads together.
Arn attempted a DDT, but the Giant ran him over with a clothesline.
That only got 2 thanks to a save by Benoit.
Cross-corner whip by Benoit who gave the Taskmaster an elbow upon his follow-through.
After positioning the Taskmaster on the top turnbuckle and prepping for a superplex, the Giant interrupted.
Benoit then tried a cross body block, but the Giant caught him then tossed him at Arn.
Abdominal stretch by Arn, but the Taskmaster hip-tossed out of it.
Arn attempted to keep the Taskmaster's shoulders down but ate a shot low upon shifting his weight. OUCH!
Spike piledriver attempt by the Horsemen was thwarted by the Taskmaster who catapulted Arn into Benoit crotching him.
Belly-to-back suplex by the Taskmaster led to the hot tag.
Benoit and the Taskmaster then headed toward the beach setting.
After the Giant made Arn eat a big boot, Benoit rammed the Taskmaster face-first into a stairwell.
Vertical suplex by the Giant to Arn as the Taskmaster slammed Benoit at the broadcast location.
Chokeslam by the Giant got the pin.
Rating: **
Summary: So much for the Horsemen sweep.
After the match, Benoit leaps from the broadcast location and nails the Taskmaster in the sand. He then makes the Taskmaster taste the steel railing again. Waiter, the local boy also requests a frozen Bahamarita. He then takes the Taskmaster back into the ring, places him atop the top turnbuckle, and delivers a belly-to-back superplex. Woman returns to the ring and pleads for Benoit to stop. The Giant returns as Benoit and Woman head for higher ground. Afterwards, the Giant carries the Taskmaster backstage.
Video package for the events that led up to the hostile takeover.
Prior to the beginning of the match, Okerlund comes to the ring and asks the Outsiders where their third man is. "Ramon" calls him "Scheme Gene" and states that "he's here and he's ready."
Match 9 (hostile takeover): "Macho Man" Randy Savage, the "Total Package" Lex Luger, & Sting versus the Outsiders & ?????
Highlights:
Buffer rumbled.
Nash looked like he traded in his treadmill for a bar stool.
It's 3-on-2 to begin the match.
When "Ramon" tossed his toothpick at him, Luger slapped "Ramon."
Forearm off the ropes by Luger knocked "Ramon" down to the mat.
He then leveled Nash with one.
"Ramon" shoved Luger out of the ring.
Luger clotheslined "Ramon" but got nailed by Nash.
Stinger splash in the Outsider corner knocked both Nash and Luger down to the floor.
Luger was OUT COLD.
Meanwhile, Savage made "Ramon" taste the steel railing. It must have tasted like the Snapper Hemingway at the Charter House.
Sting and Savage checked on Luger as EMTs brought a stretcher to the ring.
Quickly, they placed Luger on a board and removed him from the ringside area.
It's now 2-on-2.
Tony then refers to "Ramon" as Hall, so I will stop that shenanigan going forward.
Hall challenged Sting to a test of strength but slapped him instead.
Sting then beat the bejeezus out of Hall.
Face plant by Sting who tagged in Savage.
Immediately, Savage mounted the top turnbuckle, leaped, but ate a shot to the midsection.
While Hall distracted both Sting and referee Randy Anderson, Nash came in and gave Savage Snake Eyes.
Hall missed a clothesline, but Savage didn't and got a 2 count.
Nash tagged in and slammed Savage.
Mistimed spot as Nash attempted an elbow drop as Savage tried to get up. OUCH!
Sting tagged in but ate a framed elbow from Nash in the corner.
Heenan offered that if the Outsiders and their third man took over, Nitro might be a test pattern tomorrow night. Yikes!
Cross-corner whip by Nash, but Sting floated over and delivered a dropkick.
Nash countered a sunset flip attempt by Sting into a standing choke.
Fallaway slam by Hall got 2 on Sting.
Nash tagged back in and made Sting eat a big boot.
He gave Sting an Irish whip, missed a clothesline, but ate a dropkick to the knee.
While Savage distracted Anderson, Sting hooked an inside cradle on Hall for 1.
After giving Sting a pair of elbow drops, Hall hooked a Nash-assisted abdominal stretch.
The Outsiders switched without tagging as Nash hooked a Hall-assisted abdominal stretch.
Sting raked Nash's eyes to break the hold.
Clothesline by Hall got 2.
Sleeper by Hall, but when Savage distracted Anderson again, Hall tossed Sting over the top rope to the floor.
Nash tagged back in and gave Sting a sidewalk slam for 2.
Sting stuck and moved against Nash, nailed Hall, and then made the HOT TAG.
Savage mounted the top turnbuckle and hit Hall with a double axe handle.
He then rammed Hall's head into Nash's.
After tossing Hall over the top rope to the floor (somehow Anderson missed it), Savage mounted the top turnbuckle again and hit Hall with another double axe handle against the steel railing.
Back in the ring, another trip to the top turnbuckle by Savage paid off with a third double axe handle.
While Anderson tried to remove Hall from the ring, Nash nailed Savage LOW. Even Tony sold it.
How will WCW overcome and succeed in this hostile takeover?
Dear God! Hogan's here! While he was the face of WCW, his performance prior to his hiatus was vomit-inducing. So he's here to rescue WCW, right?
While Rhodes was ecstatic that Hogan was coming to help WCW, Heenan asked "Whose side is he on?" Does Heenan know something we don't?
As the crowd rose to their feet, Hogan ripped the t-shirt, and gave Savage a leg drop!
Oh. My. God. Hogan was the THIRD MAN! WE HAVE A HEEL TURN!
As Hogan delivered another leg drop, Heenan exclaimed; "Hogan has betrayed WCW!"
Hogan then gave both Nash and Hall high-fives.
Sting tried valiantly to stop this mess but got nailed by Hall.
Hogan then tossed Anderson out of the ring.
A third leg drop by Hogan was followed by a 3 count made by Hall.
For all intents and purposes, this match was over.
Rating: ***1/2
Summary: Usually mystery partner angles flop, but this one won't. As a wrestling match, it was ok. As a wrestling news story, this was gigantic. What happens next?
After the match, Hogan raised the Outsiders' arms in victory. The fans actually cheer, but garbage begins to get tossed into the ring too. Okerlund enters the ring for an interview:
Okerlund: "Hulk Hogan…what in the world are you thinking?"
Hogan: "Mean Gene, the first thing you need to do is to tell these people to shut up if you wanna hear what I gotta say."
Cheers turned to boos.
Okerlund: "I have been with you for so many years. For you to join up with the likes of these two men, (it) absolutely makes me sick to my stomach. And I think these people here and a lot of other people around the world have had just about enough of this man (Nash) and this man (Hall). And you wanna put yourself in this group? You've gotta be kidding me!"
Hogan: "Well, the first thing you gotta realize, brother, is this right here (pointing to himself, Hall, & Nash) is the future of wrestling. You can call this the New…World…Order..of wrestling, brother. These two men right here came from a great big organization up north, and everybody was wonderin' who the third man was. Well, who knows more about that organization than me, brother?"
Okerlund: "I've been there and done that. You have made the wrong decision in my opinion."
Hogan: "…I made that organization a monster. I made people rich up there. I made the people that ran that organization rich up there, brother. And when it all came to pass, the name Hulk Hogan, the man Hulk Hogan got bigger than the whole organization, brother. And then, Billionaire Ted…he wanted to talk turkey with Hulk Hogan. Well, Billionaire Ted promised me movies…millions of dollars…world-caliber matches. As far as Billionaire Ted, Eric Bischoff and the whole WCW (go), I'm bored, brother. That's why these two guys here, the so-called Outsiders. These are the men I want as my friends. They're the new blood of professional wrestling, brother. And not only are we gonna take over the whole wrestling business with Hulk Hogan and the new blood, the monsters with me, we will destroy everything in our path, Mean Gene."
Okerlund: "Look at all of this crap in this ring. This is what's in the future for you if you wanna hang around the likes of this man, Hall, and this man, Nash. "
Hogan: "As far as I'm concerned, all this crap in the ring represents these fans out here. (Crowd boos.) For two years, I held my head high. I did everything for the charities. I did everything for the kids. And the reception I got when I came out here? You fans can stick it, brother, because if it wasn't for Hulk Hogan, you people wouldn't be here. If it wasn't for Hulk Hogan, Eric Bischoff would still be selling meat from a truck in Minneapolis. And if it wasn't for Hulk Hogan, all these Johnny-come-lately's that you see out here wrestling wouldn't be here. I was selling out the world, brother, while they were bumming gas to put in their car to get to high school…With Hulk Hogan and the New World Organization of wrestling, brother…whatcha gonna do when the New World Organization runs wild on you?"
Hogan then gets a little rough with Okerlund who threatens legal repercussions. The ring is literally FILLED with debris as Hogan soaks up the crowd's mixed reaction.
Somberly, Tony then signs off the air by saying: "Alright, we have seen the end of Hulkamania. For Bobby "The Brain" Heenan, for Dusty Rhodes, Gene Okerlund…I'm Tony Schiavone, Hulk Hogan, you can go to hell We're out here. Straight to hell." He then tosses down his headset off-camera.
A new day has dawned in WCW. Wow!
Conclusion: In previous reflections, I've noted that said WCW PPV had zero historical value. THIS PPV has the most significant historical value of any WCW PPV ever created. As a wrestling fan, it is your sworn duty to watch and enjoy this PPV and its historical significance.
See you for Monday Night War week 44!
Buyrate: 0.71
Comments? Suggestions? Send them to me at rsg@rockstargary.com and follow me on Twitter (@rockstargary202).
Custom Search