WELCOME TO ROCK STAR GARY REFLECTIONS!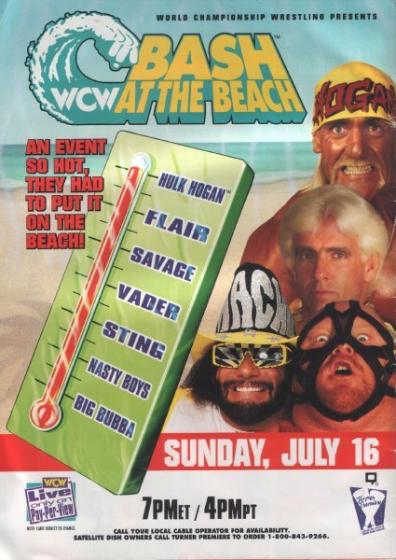 Live from Huntington Beach, CA
Airdate: July 16, 1995
Attendance: 9,500
Hosted by Tony Schiavone and Bobby "The Brain" Heenan
Tony and Bobby wear BatB golf shirts and welcome us to the Pacific coast. Seriously this show is being broadcast outdoors on the beach. To provide proper perspective the wrestlers emerge from a tent and walk along a wooden bridge to the ring. Additionally a helicopter flies overhead giving us camera shots from the sky.
Video package on Meng.
"Mean" Gene Okerlund, in his BatB golf shirt and TBS cap, interviews Sting. The Stinger notifies us that his "mom and dad" are in attendance. Aww.
Match 1 for the US title: Sting (champion) versus Meng (w/ Colonel Parker)
Highlights:
Buffer rumbled? For the opening contest? Really? Wow!
After five minutes of stalling/feeling out/punch&kick stuff we got our first wrestling maneuver: a jumping leg drop from Meng.
Tony plugged the Baywatch episode "Bash at the Beach" starring many WCW wrestlers.
Sting blocked a couple of suplex attempts.
Clothesline by Sting no-sold by Meng.
After a slam Meng attempted a splash from the middle turnbuckle but missed.
Scorpion deathlock by Sting.
Colonel Parker got up on the apron causing Sting to break the hold.
After tossing Sting outside the ring Meng gave him a vertical suplex to bring him back in.
Backbreaker by Meng.
Make it 2.
Make it 3.
Tony claimed that "hundreds of thousands" of people are in attendance. NOW THAT'S HYPERBOLE!
Abdominal stretch by Meng.
Sunset flip by Meng but Sting sat down on him.
Boston Crab by Meng.
Meng missed an elbow drop.
Belly-to-back suplex by Sting.
Three running clotheslines by Sting.
Thesz press by Sting got 2.
Huracanrana by Sting. Unbelievable! I've never seen Sting perform that move before.
Cross-body block from the middle turnbuckle by Sting got 2.
Stinger splash…NO! A kick by Meng put a stop to that.
Splash from the middle turnbuckle by Meng.
Do we have a new champion?
NO! Sting barely kicked out at 2.
Meng attempted a savate kick, but Sting ducked, rolled him up, and pinned him.
Sting retained the US title.
Rating: **1/2
Summary: Meng's plodding offense kept this sucker down while Sting's upbeat offense made it entertaining.
After the match Meng attacks Sting from behind until Road Warrior Hawk comes to Sting's aid. Hawk had beaten Mark Starr on the Main Event prior to the PPV.
Backstage Gene sans TBS hat interviews "Mouth of the South" Jimmy Hart with Renegade.
Match 2 for the World TV title: The Renegade (champion) versus "Mr. Wonderful" Paul Orndorff
Highlights:
While Michael Buffer wore a white tuxedo to perform his introductions Dave Penzer wore the BatB golf shirt and khaki shorts.
Right off the bat Orndorff broke out the shaky-shaky elbow drop.
Orndorff mounted the top turnbuckle only to come down and eat boot.
A pair of clotheslines by Renegade. A third one sent Orndorff over the top rope to the floor. Oops. Not only to the floor but to the sand.
Renegade brought Orndorff in the hard way.
A dropkick of sorts by Renegade. Didn't look crisp. Orndorff took another trip to the sand anyways.
Tactfully Orndorff grabbed some sand and tossed it in Renegade's face.
Belly-to-back suplex by Orndorff.
Properly executed dropkick by Orndorff as if to say: "This is how you do it, rookie."
Piledriver attempt by Orndorff was thwarted.
Another poor dropkick by Renegade.
A third one looked just as bad.
Powerslam by Renegade.
Renegade blocked a suplex attempt, delivered a belly-to-back suplex, and pinned him.
Renegade retained the title.
Rating: ½*
Summary: Utter tripe. This match completed exposed the Renegade as a green rookie. Orndorff was walking him through every step of the match. Yuck!
The crowd boos that finish off the beach. After the match Orndorff attacks from behind and receives cheers for his efforts. He then gave the Renegade a piledriver. Renegade shakes off the effects of the piledriver, mounts the top turnbuckle, and delivered a cross-body block. On the replay Orndorff got his right shoulder up. Paul got screwed! Unfortunately I smell a rematch.
Video on the Dungeon of Doom. "Taskmaster" Kevin Sullivan speaks to King Curtis in the bowels of the CNN Center what can only be termed a dungeon. He bestows Kamala upon Sullivan as the newest member of the Dungeon of Doom.
Backstage Gene interviews Duggan. He proclaims "No more Mr. Nice Guy."
Match 3: "Hacksaw" Jim Duggan versus Kamala
Highlights:
Wow! It's been two years since Kamala was on TV. His last TV appearance was on WWF Monday Night RAW on 6/28/93.
Tony teased us with another member of the Dungeon of Doom by the name of Zodiac.
Running clothesline by Duggan put Kamala down on the mat.
Standing sidekick by Kamala.
Duggan attempted to slam Kamala but failed.
Bear hug by Kamala.
Pectoral claw by Kamala.
Clothesline followed by a slam by Duggan.
Three-point clothesline by Duggan.
Instead of making a cover he attacked Taskmaster on the apron.
Zodiac (aka Ed Leslie) attacked Duggan from behind by hitting him with Kamala's mask.
Kamala pinned Duggan.
Rating: DUD
Summary: When Ed Leslie is the best worker in the match there's a big problem. Next!
Backstage Gene interviews Savage who is wearing a Slim Jim hat.
Match 4: DDP (w/ the Diamond Doll and Max Muscle) versus Evad Sullivan
Highlights:
A kid delivered flowers to the Diamond Doll. DDP took serious exception to it.
Evad ambushed DDP at the onset.
He then made DDP eat the flowers.
He gave DDP a suplex from the apron back into the ring.
Atomic drop by Evad.
Snap suplex by Evad.
DDP missed a running knee to the corner.
Running clothesline by Evad.
Inverted bear hug by Evad, but Max Muscle got up on the apron.
Evad nailed Max which allowed DDP to hit Evad from behind.
DDP hit the Diamond Cutter and got the pin.
Rating: **
Summary: That was better than it had any right to be.
Backstage Gene interviews Harlem Heat and Sister Sherri. Booker T says it's "it's on like…neck bone."
Match 5 (Triangle) for the World Tag Team titles: Harlem Heat (champions w/ Sister Sherri) versus the Nasty Boys versus the Blue Bloods
Highlights:
Wait a minute! When did Harlem Heat win the titles from the Nasty Boys? Back on 6/24 (taped 5/3) on Worldwide. Talk about giving away PPV-quality matches seven weeks in advance.
Wait another minute! That doesn't make any sense! So while being the champs on 5/3 they regained the titles that they hadn't lost until 5/21 at Slamboree. You've gotta love taping schedules. WCW Monday Nitro would resolve a lot of these issues.
Considering how fair-skinned Regal was I hope he was wearing sunscreen.
Harlem Heat and the Nasty Boys began the match after a three-team coin toss.
All hell broke loose at the onset yet his lordship took another trip to Pity City. Ew.
The Nasty Boys then force Eaton to take the same trip. Double ew.
Clothesline by Knobbs resulted in a 360° sell by Booker T.
Jumping sidekick from Booker T to Regal.
Eaton got nailed by Sherri while out on the floor.
Tilt-a-whirl slam by Stevie Ray to Eaton.
Dropkick by Booker T to Sags.
Back elbow and splash by Knobbs to Stevie Ray.
Leg lariat by Booker T.
Eaton mounted the top rope and nailed Knobbs with a knee.
Regal stretch on Knobbs.
Sunset flip attempt by Regal transformed into a Regal pancake. OUCH!
Sags gave Booker T a back body drop onto Regal.
There was a pin. What just happened?
It would appear that the Nasty Boys pinned Regal, but referee Nick Patrick raised Booker T's arm.
On the replay Sags sat on top of Booker T's head that was on top of Regal. Harlem Heat retained their titles.
Rating: **
Summary: Confusing match with barely any wrestling or cohesiveness.
Now wearing a Slim Jim hat Gene interviews the victorious Harlem Heat. Stevie Ray referred to the Blue Bloods as "so-called foreigners." I echo his sentiment, especially concerning Alabama native Bobby Eaton. Sherri then makes the challenge to the #1 contender—Stud Stable members "Dirty" Dick Slater and Bunkhouse Buck.
Gene interviews Flair. Flair goes one mile further than he did at the Great American Bash by stating that Elizabeth took a ride on Space Mountain.
The cast of Baywatch make their way to ringside. Heenan stands on his chair to get a better view.
Match 6 (Lifeguard): "Macho Man" Randy Savage versus "Nature Boy" Ric Flair
Highlights:
A lifeguard match is exactly the same as a lumberjack match.
Buffer announced the participants but didn't rumble.
Angelo Poffo was in the crowd.
Considering the restrictions placed upon this match I don't see these guys matching their encounter at GAB.
A pair of clotheslines sent Flair down to the mat. A third one sent him over the top rope to the floor.
Inverted atomic drop by Flair.
Flair flip to the floor.
After Flair tossed Savage outside landing all the way in the sand he attempted to suplex Savage from the apron to the ring but received a suplex sending him to the floor.
Back elbow by Flair.
Sleeper by Flair.
After Savage escaped with an elbow to the mid-section he came off the ropes with a shoulderblock only to fall prey to another sleeper.
Savage escaped by running Flair's head into the top turnbuckle.
A Flair flop followed.
Flair tossed Savage over the top rope to the sand.
After Savage was thrown back in Flair mounted the top turnbuckle. Savage shook the top rope, and Flair came down with his jaw to the top of Savage's head. Oops.
Sleeper by Savage countered into a knee crusher.
Flair mounted the middle turnbuckle and stretched Savage's left leg.
Figure-four leg lock by Flair.
Vertical suplex by Flair.
Atomic drop blocked by Savage.
Right hand by Savage sent Flair over the top rope to the floor.
Flair tried to high-tail it but the lifeguards returned him to the ring.
Savage mounted the top turnbuckle and delivered a double axe handle.
Arn Anderson got on the apron causing Brian Knobbs to get on the apron as well.
That prompted referee Randy Anderson to admonish Knobbs.
Arn then entered the ring but ate a right hand from Savage.
Savage gave Flair a back drop over the top rope. He was then caught by the Nasty Boys.
Meanwhile Arn returned to the ring and gave Savage a DDT.
Hip toss by Flair countered into a backslide by Savage for 2.
Flair mounted the top rope only to come down the hard way.
Savage then mounted the top turnbuckle and hit another double axe handle.
After a slam Savage mounted the top turnbuckle again and hit the big elbow.
Savage got the pin.
Rating: ***
Summary: Definitely not as great as their GAB encounter but these guys make wrestling great each time they face one another. In my eyes the lumberjack/lifeguard stipulation hurt the match rather than helped it.
After the match Savage hugged one of the blonde Baywatch beauties. Helicopter shot of the cage being built followed.
Video package on the Vader road kill tour. Cities such as Memphis, TN, Evansville, IN, and Wichita, KS are mentioned; however, WCW did not tour those cities during the summer of 1995. I see it as a dig at the USWA territory.
Gene sans hat interviews Vader. The promo centers around what time it is. Vader should purchase a watch.
Tony shills the taped PPV Collision in Korea shown on August 4. But isn't there a Clash on 8/6?
Gene then interviews Hulk Hogan who has Jimmy Hart and Dennis Rodman with him. With the Hogan bandana and t-shirt Rodman looks somewhat normal.
Match 7 for the WCW World title: Hulk Hogan (champion w/ Dennis Rodman and Jimmy Hart) versus Vader
Highlights:
Buffer rumbled again.
Vader wore his mastodon mask to the ring.
More of the Baywatch crew escorted Hogan and Rodman to the ring.
Hogan climbed into the ring over the cage.
Pin, submission, or escape rules for this match.
Hogan pummeled and humiliated Vader at the onset.
From the middle turnbuckle Hogan delivered a double axe handle.
Elbow off the ropes by Hogan.
Vader rammed Hogan into the mask in the corner.
Hogan returned the favor.
He then wore the mastodon mask and delivered head butts.
Avalanche by Vader.
Vader bomb.
Make that 2.
Vader speared Hogan into the cage.
Vader gave Hogan a suplex but didn't go back with him.
Vader made the first attempt to exit the cage.
Hogan tried to slam Vader but failed.
Vader mounted the top turnbuckle but missed a senton bomb.
Running clothesline in the corner by Hogan.
Another slam attempt by Hogan failed.
Axe bomber by Hogan.
Slam by Hogan.
Short-arm clothesline by Vader.
Vader mounted the middle turnbuckle and delivered a splash.
Hulk-up time! The look on Vader's face said "My WCW career is over!"
Hogan no-sold a head shot to the cage.
Make that twice.
Make that thrice.
Vader then eats the cage four times.
Big boot.
Make that 2.
Zodiac and Sullivan tried to enter the cage, but Rodman rammed Zodiac's head into the cage and chased them away with a chair.
Leg drop.
Make that 2.
Hogan tried to escape over the cage, but Vader climbed up and stopped him.
Vader fell from the top rope.
Hogan escaped to win the match.
Rating: **1/2
Summary: For those of you who enjoyed Vader in WCW from 1991-93 this match sucks. For those of you who believe that Vader was just another monster for Hogan to slay this match works for you. To me Vader has lost all credibility in spite of losing a main event cage match on one of WCW's biggest PPV telecasts. See King Kong Bundy, Andre the Giant, and Yokozuna as other examples of big men who were not the same once they laid down in support of Hulkamania.
Interestingly while Buffer handled the introductions Penzer handles the final announcement. After Tony and Bobby attempt to sign off Flair rushes down to the ring. He is beyond upset at Vader for failing to end Hulkamania. Vader attacks Flair until Arn Anderson nails him from behind; however, it doesn't faze him. Flair and Anderson head for higher ground. Afterwards Vader challenges both to a match.
Conclusion: Another outdoor PPV event equals another Hogan victory in the main event. Has it sunk in that Hulk Hogan is the face of WCW yet? While Vader, Flair, and Sullivan find ways to end Hulkamania Hogan reigns supreme in WCW. While it works for the kids I'm sure the wrestling fans that followed WCW from the Jim Crockett days were shaking their heads at the happenings within WCW at this point in time.
Vader was an unstoppable force in WCW in 1992-93. But by 94-95 he was just another monster for Flair and Hogan to decimate. Now Vader wants a handicap match against Flair and Anderson at the Clash on 8/6.
Anyways, I obviously thought the cage match was nothing special. Flair and Savage could not recreate their GAB classic here. And nothing else was good or memorable. Skip this show unless you haven't seen it. The beach atmosphere was a great concept for WCW although it would have helped if they charged admission to the fans in attendance.
See you at the Clash!
Buyrate: 0.82
Comments? Suggestions? Send them to me at rsg@rockstargary.com and follow me on Twitter (@rockstargary202).
Custom Search