WELCOME TO ROCK STAR GARY REFLECTIONS!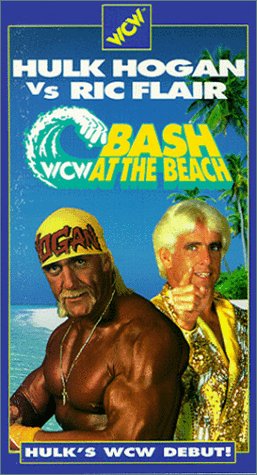 Live from Orlando, FL
Airdate: July 17, 1994
Attendance: 14,000 (9,111 paid)
Hosted by Tony Schiavone and Bobby "The Brain" Heenan
Daron Norwood sings the National Anthem.
On July 9 LIVE on WCW Saturday Night WCW World Champion "Nature Boy" Ric Flair faced Sting. Dressed like a male fan Sensuous Sherri interfered and knocked Sting out of action for this PPV. Afterwards Hulk Hogan, Mr. T, and Jimmy Hart came to aid Sting.
Holy missing pieces, Batman! The ramp is GONE! Hogan's influence, perhaps?
Match 1 for the WCW World TV title: Lord Steven Regal (champion w/ Sir William)versus Johnny B. Badd
Highlights:
Curtain-jerking yet another WCW PPV was the Badd man himself. Unlike previous PPVs his Badd Blaster literally littered the ring and the entire ringside area.
Hammerlock takedown by Badd sent Regal reeling to the floor in agony.
Dropkick by Regal. Wow!
Chris Lemmon from Thunder in Paradise sat in the front row next to Linda Hogan. I bet ECW's hat guy wishes he was there.
Flying headscissors by Badd led to a Regal flip.
The "kiss that don't miss" sent Regal to the floor again.
Plancha by Badd.
Badd used a sunset flip to re-enter the ring. Regal grabbed the umbrella in the same fashion he used to beat Zbyszko last month, but referee Nick Patrick saw it and kicked the umbrella from Regal's grasp.
Regal reversed a rollup and scored the pinfall. Like a wily veteran he grabbed the tights for extra leverage.
Rating: ***
Summary: Really good opening match. You could tell this show is something special with the Regal dropkick and the plancha by Badd. Johnny is now 0-2 in title matches in consecutive shows.
After the match Badd brought Sir William into the ring the hard way then gave him a back body drop. To add insult to injury he stomped his top hat. How gauche!
As Tony and Bobby yak about the main event the Hulk Hogan impersonator is shown at ringside. In the ring "Mean" Gene Okerlund introduces Antonio Inoki then presents a plaque to him. Regal interrupts the ceremony claiming shenanigans. He challenges Inoki but backs down when Inoki removes his jacket. Could a Regal-Inoki match be brewing here?
Match 2: The Guardian Angel versus Vader (w/ Harley Race)
Highlights:
Jesse "The Body" Ventura replaced Heenan on commentary.
Not to besmirch the dead but Ray Traylor in a red beret wasn't a pretty sight.
Race got in Angel's face and was sent to the floor immediately.
Whoa! Leg lariat by Vader. Everyone's pulling out the big stuff for this huge audience.
After removing Vader's head gear and tossing it at Race Angel picked up Vader, held him for a moment, then slammed him.
Vader Attack on the floor.
Sunset flip from the second turnbuckle by Vader.
Vader bomb.
Moonsault by Vader but Vader hurt himself so he couldn't make a cover.
Race mounted the top turnbuckle but was tossed to the mat by Angel.
Angel followed that with a clothesline to Vader sending him over the top rope to the floor.
Angel then tossed Race out of the ring, ran outside the ring, and nailed Vader with a right hand.
By the way a new referee worked this match. Anyone know who this ham'n'egger was?
Meanwhile Angel suplexed Vader from the apron back into the ring.
Shoulderblock by Vader sent Angel weakly into the ham'n'egger, er, I mean referee.
Race handed Vader a nightstick.
The referee ham'n'egger noticed the nightstick in Angel's hand and called for the bell? Angel didn't even use it!
Vader won by DQ. Boo!
Rating: **
Summary: Excellent exhibition of strength shown by both men in this match prior to that crappy finish.
Ventura's career-long disdain for Hogan is evident with his quick pick of "Nature Boy" Ric Flair in the main event. Jesse would get the last laugh on Hogan as he would become a more successful politician.
In the dressing room Chris Cruise and Mike Tenay contemplate the future of the Tazmaniac attempt to interview Terry Funk to no avail. As Tony shills the hotline Jesse looks utterly BORED. His stay in WCW would end shortly after this show.
A video package of the feud between Dustin Rhodes and the Colonel Parker stable is shown including the plea from Rhodes to Arn Anderson for his partnership on WCW Saturday Night then the latter's acceptance at the Clash.
They must be running ahead of schedule as they show highlights of Molly McShane winning a handicap match prior to the show. "Mouth of the South" Jimmy Hart was the referee.
Match 3: "The Natural" Dustin Rhodes and "The Enforcer" Arn Anderson versus Terry Funk and Bunkhouse Buck (w/ Colonel Parker)
Highlights:
Meng accompanied Colonel Parker at ringside.
Arn and Buck started the match, but since Buck wanted Rhodes in, Arn obliged. That became important later.
After slamming both Funk and Buck, Rhodes slammed Funk over the top rope to the floor behind referee Nick Patrick's back.
In a funny moment, while Patrick counted Funk on one side the ring Rhodes tossed Buck over the top rope on the other side. Sneaky! Jesse called Tony out on his bullshit for cheering the chicanery of the face here. Tony's response: "Special circumstances dictate it." As a rebuttal Jesse replied "…and you call ME a politician?" Awesome!
Flying body press by Rhodes missed sending Rhodes out of the ring, down the steps, and into the aisle. The lack of the ramp made that spot look good.
Funk made Rhodes eat the steel railing. If it was fishy it must have come from Sea World.
He then made Rhodes eat it a second time. More tartar sauce please.
Reverse neckbreaker by Funk followed by a piledriver.
Bionic elbows to both Funk and Buck helped Dustin mount the comeback.
Flip flop and fly sent Funk into the middle of next week.
Rhodes clotheslined Buck over the top rope to the floor then gave Funk a lariat.
Buck climbed to the top turnbuckle but Rhodes caught him. He then tossed him directly into Funk.
Parker got on the apron but ate a right hand.
Rhodes FINALLY made the tag.
Arn was revved up and ready to go…
Then he turned on Rhodes with a DDT while Meng distracted Patrick. Incredible Anderson moment here.
He then put Funk atop Rhodes for the pin.
Rating: ***
Summary: If you're into old-school NWA tag team matches this one fits the bill for you. Classic heel turn by Anderson makes him relevant again.
After the match, the three men triple-team Rhodes. Anderson uses the ropes to kick at Rhodes' right arm a few times. From the sounds of Rhodes it would appear that his arm is broken. WCW officials including Greg Gagne break it up. On the replay you see people jumping for joy. I guess a heel Anderson is a good Anderson.
Okerlund tries to interview Anderson, but Arn is ready to celebrate. I guess the Miller Lite's already on ice. In the meantime baseball legend Hank Aaron joins Tony and Bobby. Hank doesn't have a horse in the main event race.
Fall Brawl will take place on September 18.
Okerlund is backstage with WCW World champion "Nature Boy" Ric Flair and Sensuous Sherri. Flair touts Arn's win then he and Sherri cut a promo on Hogan.
Match 4 for the US title: "Stunning" Steve Austin (champion) versus Ricky "The Dragon" Steamboat
Highlights:
Heenan referred to Steamboat as the "human BIC" due to Steamboat's fireball.
Austin had "Dragon Slayer" on the back of his trunks.
Impressive balance from Steamboat as he walked the entire length of the ropes on one side.
Austin mounted the middle turnbuckle, but Steamboat dropkicked him sending Austin ¾ of the way over the top rope hanging by his knees. OUCH!
After a leapfrog Austin "tweaked" his knee. I wonder if Steamboat will fall for the old Hollywood Blond trick…
...NOPE!
Trick knee caught Steamboat behind referee Randy Anderson's back.
After some clotheslines Steamboat rolled out of the ring down the steps. I swear he could be overheard yelling "Where's the doggone ramp?"
During a Steamboat arm-bar an over-the-shoulder camera view tipped off this exchange:
Tony: (pointed to his right) "That's the Brain."
Bobby: (pointed to his left) "That's another part of the anatomy."
A botched leapfrog by Austin was converted into a pinfall attempt by Steamboat.
Dominator by Austin.
Knee drop from the middle turnbuckle by Austin.
Swinging neckbreaker by Austin.
After Austin delivered a leapfrog body guillotine he waved Steamboat's arm at the camera and yelled "Hi, everybody!" You can't say Austin doesn't have a sense of humor.
Austin attempted to nail Steamboat with his exposed knee, but Steamboat countered it into a stungun.
With both men on the apron, Austin launched Steamboat into the steel railing. I bet it tasted like sushi from the Katsura Grill.
Steamboat recovered and sent Austin into the ring post.
He then mounted the top turnbuckle and delivered a chop to Austin's head.
In an attempt to get disqualified Austin tossed Steamboat over the top rope.
Unfortunately for Austin, Steamboat skinned the cat back into the ring.
Austin tried again, but Steamboat landed on the apron.
Oklahoma roll got a 2 count for Steamboat.
Tombstone attempted by Austin reversed by Steamboat.
Reversed by Austin again.
Reversed by Steamboat again.
And he hits it. New champion?
NO!
Steamboat mounted the top turnbuckle, but as he leaped Austin put Anderson in front of him.
Anderson threatened to stop the match; however, Steamboat made his case to continue it.
Austin countered a crossbody off the ropes with momentum and on the second pin attempt used the ropes to get the pin!
Rating: ****1/2
Summary:< Wow! This is definitely Steve Austin's best singles match in WCW. While he played the heel (midcarder) to the nth degree he also hung with Steamboat with respect to workrate and wrestling. While I must give a lot of credit to Steamboat, Austin was certainly coming into his own by this point in his career.
Chris Cruise and Mike Tenay are in the back pondering TNA's future interviewing Pretty Wonderful. Call the hotline to find out the booking decision prior to the match!
In the dressing room Okerlund interviews Colonel Parker's stable as they celebrate the decimation of Dustin Rhodes. Anderson cements his heel turn while taking a champagne shower. Anderson's promos were always money.
Match 5 for the WCW World tag team titles: Kevin Sullivan and Cactus Jack (champions) versus Pretty Wonderful
Highlights:
At Slamboree Sullivan and Jack won the belts. In a talent exchange with then-NWA promotion Eastern Championship Wrestling Jack cut this promo back on June 24. I wonder if that will affect the outcome of this match.
The Hulk Hogan "impersonator" got a close-up. Yuck!
Pretty Wonderful's cockiness was on full display early in the match.
Cross-corner whip by Orndorff to Sullivan blocked by Cactus Jack. TEAMWORK!
Outside the ring Orndorff attempted to make Cactus eat the steel railing. Since Jack didn't make reservations at Le Cellier he missed out on the pretzel bread.
Double stomp to the gut by Sullivan got a 2 count thanks to a Roma save.
To amuse themselves during this match the huge crowd did the wave.
Sitting next to Hank Aaron was Bill Shaw. Interestingly Sonny Onoo sat behind them yet was not mentioned.
Behind referee Nick Patrick's back Orndorff gave Sullivan a piledriver.
Jaw breaker by Sullivan to Orndorff.
Top rope elbow drop by Roma.
Shaky-shaky elbow drop by Orndorff.
Roma missed a top rope splash which prompted the hot tag to Cactus.
Leapfrog body guillotine by Cactus.
Double-arm DDT by Cactus on Orndorff.
As Cactus came off the ropes Roma tripped him and held his legs.
Orndorff made the cover and the pin.
WE HAVE NEW CHAMPIONS!
Rating: *
Summary: Pedantic, boring tag team match with zero psychology or flow. Neither team made a distinct effort for anyone to care about this match which garnered zero heat. Obviously the answer to the earlier question about Cactus Jack was "get the title off the guy ASAP."
Heenan continues to show his disdain for Hulk Hogan as he and Tony preview the main event.
So here it is…the WrestleMania main event that never happened. The WWF (now WWE) couldn't pull it off in 1992, but WCW pulls it off just two years later. And with the main event came mainstream attention. For example Mr. T and Shaquille O'Neal (then just a young center for the up-and-coming Orlando Magic) make appearances at this show whereas before Hulk Hogan arrived, WCW wasn't able to get this type of attention.
Match 6 for the WCW World title: "Nature Boy" Ric Flair (champion w/ Sensuous Sherri) versus Hulk Hogan (w/ Mr. T and Jimmy Hart)
Highlights:
Michael Buffer introduced WCW Commissioner Nick Bockwinkel and Shaquille O'Neal. The hometown crowd gave Shaq a huge ovation.
Subsequently the champion came out first? That's not tradition, dammit!
"American Made" played Hulk Hogan, Jimmy Hart, and Mr. T to the ring.
Buffer rumbled but did not stumble over Randy Pedersen Anderson's name.
Hogan was billed at 272 ¼ pounds unlike the 303 lbs. in the WWF.
Mixed reaction for the "Nature Boy."
Hogan mocked Flair's strut.
He then busted out a Fujiwara arm-bar. Impressive!
Outside the ring Flair used Sherri as a shield.
Clothesline in the corner by Hogan.
Flair bailed out of the ring instead of receiving the big boot.
Sherri grabbed Hogan's leg when he came off the ropes.
Outside the ring Sherri tried to nail Hogan with a chair, but Hart took it away from her.
Flair made Hogan eat the steel railing. Tasted like the linguine alla scoglio at Via Napoli.
Top rope forearm by Flair.
Extended headlock by Flair.
Flair flip over the turnbuckle. Immediately Hogan sent him to the floor with a right hand.
Hogan gave him a belly-to-back suplex on the floor.
Leg drop missed for Hogan.
Figure four attempt countered into an inside cradle.
Vertical suplex by Flair no-sold by Hogan.
Big boot but Sherri pulled Anderson out of the ring and made him eat the steel railing. It must have tasted like the escargot at Monsieur Paul because he's OUT COLD.
She then nailed Hart.
Chop block by Flair.
Sherri with a top rope splash on Hogan.
Nick Patrick assumed referee duties.
Flair applied the figure four leg lock but Hogan made the ropes.
Sherri used her stocking to choke Hogan.
Hogan began no-selling Flair's chops.
Both Sherri and Flair mount the top turnbuckle.
Sherri missed the splash.
Hogan then tossed Flair off the top.
He then double-clotheslined Flair and Sherri. Glancing blow for the former Queen though.
Hogan applied the figure-four leg lock.
Sherri got up on the apron, left brass knuckles for Flair, but got caught by Mr. T.
T then escorted her away.
Flair knocked Hogan OUT with the brass knuckles.
2 count and it's Hulk up time!
Big boot and leg drop for Hogan.
WE HAVE A NEW HEAVYWEIGHT CHAMPION OF THE WORLD!
Rating: ***
Summary: Not a wrestling classic but it's definitely an historic match to check out if you've never seen it.
After the match Mr. T and Shaq raise the arms of Hulk Hogan. Fireworks and cheers accompany Hogan's post-match pose down. Hyperbole spews from both Tony and Bobby about the match although Bobby's quite despondent.
Backstage Hogan receives congratulations from "Hacksaw" Jim Duggan. Hogan and his entourage make their way to the interview room. Okerlund conducts the interview and offers congratulations. Typical victory interview for Hogan follows. Okerlund spots Ed Leslie and refers to him as Brutus "The Barber" Beefcake. If I'm not mistaken that would be an infringement upon a WWF trademark.
Heenan storms from the broadcast table pissed off about the Hogan championship victory. Tony closes us out with "wrestling is cool again."
Conclusion: Take a quick glance at the buyrate below this entry. THAT information alone should tell you that Hulk Hogan was still relevant and a huge buy for WCW.
So the Hogan era in WCW has begun. As the introductions of Leslie and Duggan show, Hogan's buddies tagged along with him to "where the big boys play." Let's hope this doesn't lead to a more sports-entertainment-based product instead of a great wrestling product like it has been.
How will WCW World Champion Hulk Hogan fare going forward? If I were to make a prediction I'd say that Hogan would get a better reaction outside of Flair country than within it. If the 1991 Great American Bash told us anything it's that WCW fans love Ric Flair whether he's a face or a heel.
As far as the rest of the show is concerned the Austin-Steamboat match is a classic that everyone should watch. In addition the old school Rhodes-Parker stable match has future value to it with the fantastic Anderson double-cross. This show is a must-see for all wrestling fans despite every match not being spectacular.
See you at the Clash!
Buyrate: 1.02
Comments? Suggestions? Send them to me at rsg@rockstargary.com and follow me on Twitter (@rockstargary202).
Custom Search